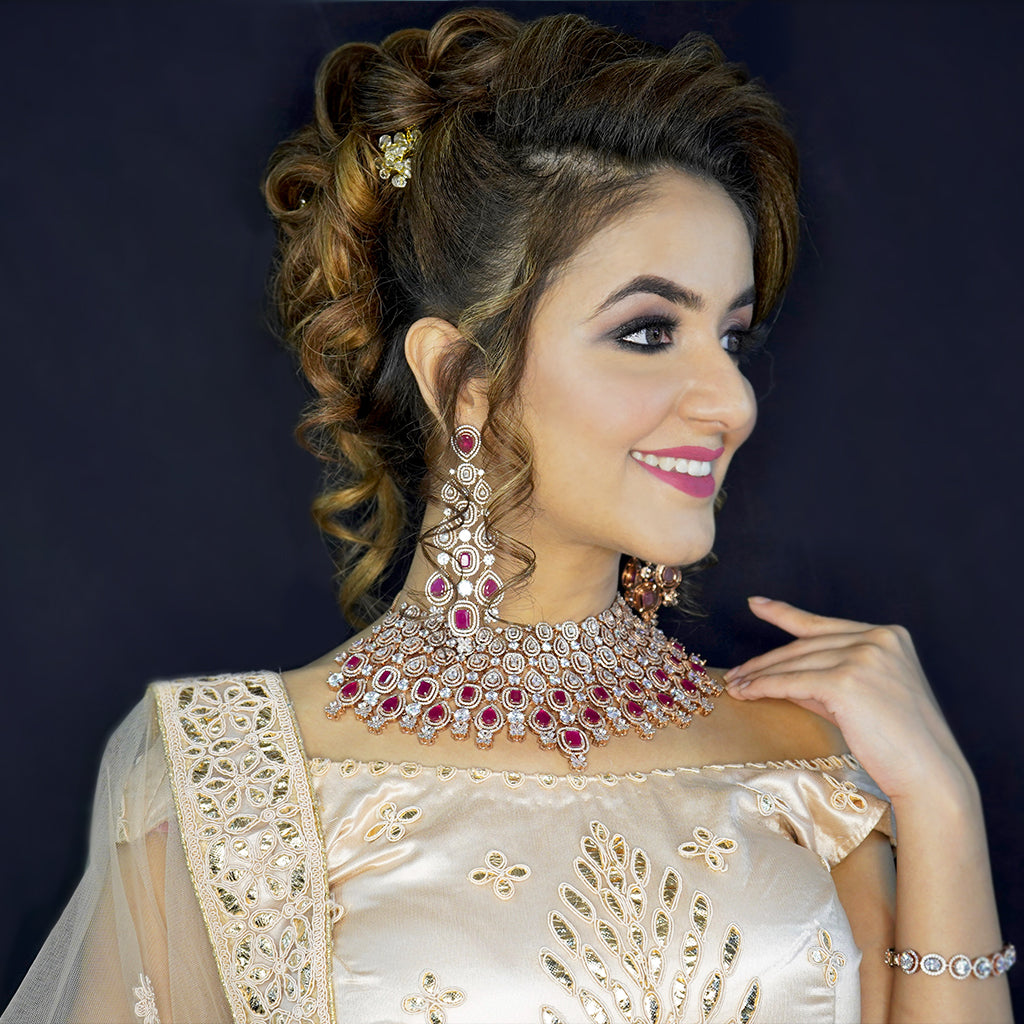 Bridal Alert: Expert Hairstyles Recommendation for D-Day
One of the most important day in every girl's life is the wedding day. Each one of us wants to make sure that everything is perfect right from the wedding dress to make-up and hairstyle. Today we have curated few suggestions on hairdo's you'll slay in as a bride.
BRIDAL HAIRDO WITH BARE SHOULDER DRESS
When you've selected a dress that will expose your bare shoulders, you have different options for your wedding hairstyle. Regardless of whether your dress is strapless or has spaghetti lashes, flaunt your neck and shoulders and wear your hair up in a rich wedding updo. In case that an updo isn't your style, simply let your hair down. Most of the modern brides are doing it! Bare shoulder dresses look great with pretty much any wedding hairdo, for example, an updo, a side-swept ponytail, chignon, half up half down, all down, in addition to any variation of these hairstyles.
Our Expert Recommendation: Side Swept ponytail.
BRIDAL HAIRDO WITH SIMPLY ELEGANT DRESS


There a lot of brides who believe in simplicity, choose simple textured dress rather than going for something luxurious. You can go for a sophisticated updo. This can be an ice breaker and keep you from looking excessively easygoing on your big day. You never need your bridesmaids to surpass the lady of the hour. Picking the correct hairstyle to suit your dress will guarantee your wedding ring isn't the main thing that shines on your big day! Nowadays, getting an advanced updo doesn't mean you will go through hours at the salon. Grab a Do-It-Yourself hair extensions to accomplish the look. This will set aside your time and cash. In addition, you don't need to stress over your hair falling or losing its shape. 
Our expert recommendation: Messy Bun.
BRIDAL HAIRDO WITH DESTINATION WEDDING


There's always an exception when it comes to a destination wedding. In the event that you are getting hitched on a tropical island, a basic and simple to manage hairdo will commend your wedding look. One of the popular hairstyles for a coastline wedding on the beach is a side cleared pigtail or long wavy hair, worn out or half up, half down. You can accomplish this relaxed, romantic look with hair extensions.
Our Expert Recommendation: Messy - Low Ponytail
BRIDAL HAIRDO WITH ELABORATE DRESS


If you have a very elaborate or detailed wedding dress with embellishments, long sleeves, a high neckline, jacket, wrap or a cape, go for a simple hairdo rather than going for an over-the-top hairstyle on your special day. Keep in mind, toning it down would be best when picking the ideal hairdo to praise your dress. With a detailed dress, it is ideal to keep the hair sleek and pulled into a chic updo. The best part is that you have a wide range of hair extensions to choose from to create a simple, elegant updo in just minutes.
Expert recommendation: Half-Tie Bun 
Now that you have a perfect hairstyle to match your wedding dress, all you need to do is walk down the aisle with a stunning look!