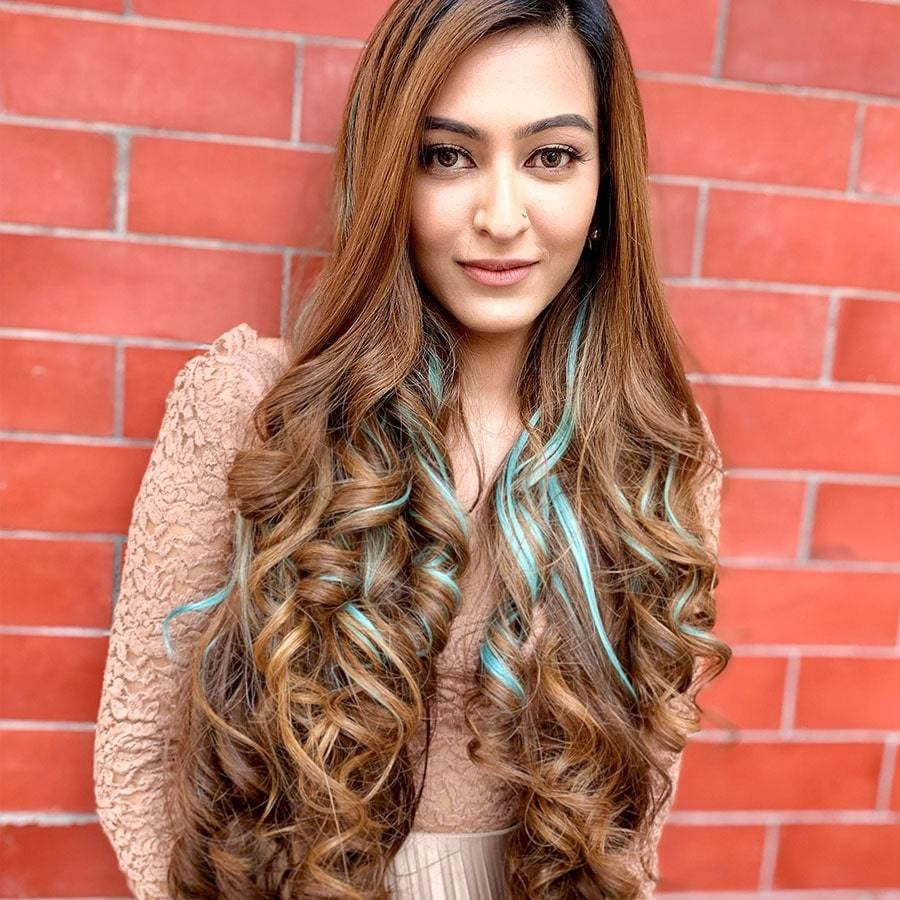 How to Apply Colored Clip-in Hair Extensions
A colored clip-in extension is a great way to add an instant pop of color to your hairstyle. The extensions are attached using a pressure-sensitive clip.  You can add a single-colored clip in color hair streaks for a subtle look or add a bunch of clip in hair streaks for a dramatic effect. Incorporate in a ponytail or updo; either way, it is a great way to change your hair without the commitment.
These extensions are made from revolutionary, head friendly human hair and synthetic fiber. So, you can style it with heat styling tools up to 350 degrees Fahrenheit. You can treat colored clip extensions like your regular hair. Shampoo or style it, you have it all, ladies! The best thing about hair streaks clip-in is that you can achieve your desired hair color on your luscious Indian Black hair without actually damaging your hair.
Here are the easy steps to put in Clip in colored hair extensions
COLORED CLIP-IN APPLICATION
Applying clip-in colored streaks extensions are simple, fast, and easy.
Prep your hair by straightening it so that it will be easier for you to apply the extensions.
Step one - Prepping Each Section

For fine hair, prepare each section, this way, you can get extra security and support to your clip in hairstreaks. Practice opening and closing the clips. Place both thumbs on each side of the index fingers on the front side and apply pressure towards yourself. Close the clips by applying pressure the opposite way.
Step two - Secure hair for smooth transition
Clip to secure all hair away that you are going to prep from the area using a clip. Hold the ends of your hair using one hand, and place a comb 1 inch from the scalp with the other hand. Press the comb towards the scalp three times. Create a cushion for the clips to hold onto, then use a tail comb or your fingers, and make a clean horizontal part where you want the streak to go.
Step three - Opening and Closing the Clips
Use your index finger and thumb to gently push the center of the clip to open the clip. Similarly, to close the clip, push your thumbs the opposite way. Pick up your clip, then attach it onto your natural hair and snap shut.
Step four- Make another horizontal part around 1cm above the previous part.
Have Fun
Place them where you want them, cover the clip-ins with your natural hair. Have fun and create your unique look with these colorful pieces.
Tips
Remember to use your natural hair to cover the wefts.
For fine hair, an excellent way to hide the wefts is to backcomb the hair or use hair spray.
Hairstreaks clip can be straightened and curled.
It is best to find the right color first, as these hair extensions are easier to darken than lighten.
When curling or straightening, set your appliance to a low temperature.
Remove clip-ins with ease
Knowing how to remove the colored clip-in extensions is equally important. While removing the extensions, you need to know exactly how to uninstall them without pulling your hair apart. Don't be careless when uninstalling extensions because if not correctly done, it breaks your hair and, in the long run, damages your hair.
Follow this simple technique and remove clip-ins without any hassles.
 Steps to remove hair extension
Lift the hair covering or above the clip-ins and keep them aside
Snap the clips the opposite way and remove 
Saves time and effort
Get salon highlighted like hair in minutes with streaked clip ins
Coloring your hair and adding in highlights especially requires a lot of effort and time. To make a flawless streak, you need experience and professional help.  Dark hair requires a bleaching process to get the right hue of highlights. While on the other hand, clip in colored hair streaks is an easy and great way to have highlighted hair in a minute. Put in a single-colored clip-ins or mix several colors to get that rainbow hue on your hair. Add in glitz and glam in our outfit with gorgeous highlighted hair with clips in and look like a Bollywood diva! 
Slide in the clip and get wowed 
These Human Hair Colored Clip-in Extensions are designed to change up the hue of your hair instantly. With clip-in hairstreaks reflect the season's hottest trends and achieve more color variations to your look. Add a splash of color, an ombre or hi/lo lights effect without chemically treating your hair. 
Change your hair game 
Flaunt clip in streaked hair and make your hair the perfect accessory for any affair. Lift your spirit, accessorize for the holidays, standout out at a music festival, and flaunt your artistic side. 
Add color and flair to your everyday hair
Make your natural hair interesting with colored extensions
There are so many different colors to choose from when it comes to wearing hair streaks clip-ins. It is a fun, quick, and easy way to look glamorous in minutes. 
Cheap and affordable
Compared to full hair extensions, clip-in hair streaks are affordable. They are available online, and you can order them. 
Reusable
The great thing about hair extensions is that they can last up to 3 months or more and can be reused. 
Colored clip-ins Blend well
No one can tell a difference because they look natural. It looks completely natural because the colored clip blends well with your hair. 
Minimum damage to natural hair
Clip in colored hair streaks is for those girls who want to highlight or color their hair but do not want to damage them.
Be spontaneous and creative. Style it any way you want; merge it with your natural hair. Braid it, curl it or straighten it. You have it all in your hands. Look cool during the holidays and festivities by attaching clip-in hairstreaks.
Diva divine offers a wide range of attractive, natural-looking Hair Extensions for you to try. Choose one for yourself and get ready to slay Clip in colored hair extensions.