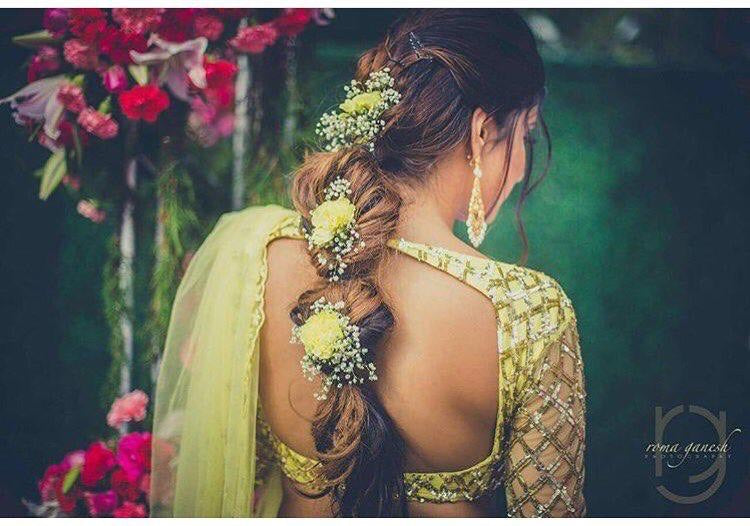 HOW TO MAKE A BUBBLE PONYTAIL
Women are very fond of creating many kinds of fancy braids from fishtail to a normal messy braid. They complement all the outfits and are a hit for formal as well as informal looks. But when it comes to creating a bubble ponytail, it gets tricky to get the right volume and length.
Diva Divine is here to show you how you can make an easy bubble ponytail with the best volume and length. This hairstyle can be created with curly, straight, wavy or even any crazy hair. Follow the steps for the gorgeous hairdo!
Step 1 The first thing you want to do is to clip-in your favorite Diva Divine Hair Extensions so that there's enough length to create bubbles and the volume is sufficient too. Tie half your hair from the crown with a clear elastic at the top and pull out tiny strings so that the head does not look without any volume.
Step 2 Take a hair strand from this half up ponytail and wrap it around the clear elastic so that it's not visible. Pull the hair strand through the elastic to keep it in place.
Step 3 Tease the ponytail to create the first bubble and tie a clear elastic at a gap of 3 inches. Once you're done, pull out some sections lightly to create some volume in the bubble. For volume, choose the Diva Divine Hair Extensions that suit your requirements best.
Step 4 Go on creating these bubbles until you reach the end of your hair and don't forget to tease every section to create good volume. Try and keep all bubbles of equal length to get an even look. If you want to create many bubbles, go for Diva Divine Hair Extensions of at least 24" length.
If there are any other kinds of ponytails or braids that you have tried making with Diva Divine Hair Extensions, share the ideas with us and let us know about your creativity. To add drama to this bubble ponytail, get our Diva Divine Hair Extensions from www.divadivinehair.com or visit our store today!