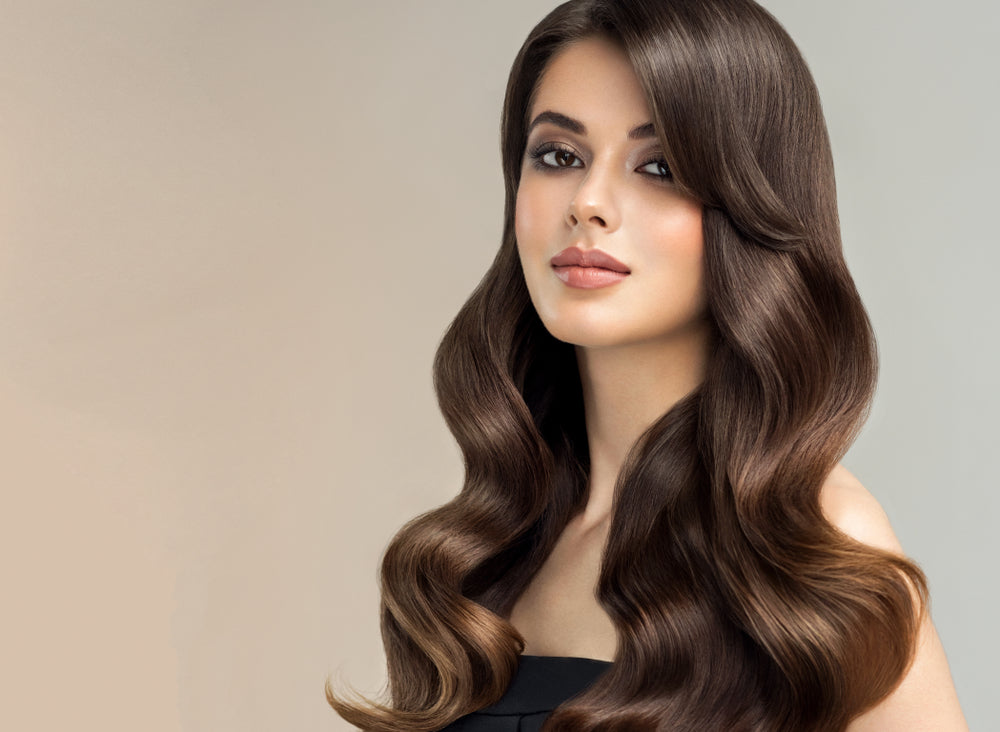 5 Spellbinding Hairstyles For Brunch Dates
Trying on new hairstyles with extensions is like starting a new relationship. In theory, you can like it or not, but your feelings will ultimately determine everything. Perhaps you'll fall in love.
Maybe you'll be looking for an excuse to get home and let your hair down as soon as possible. Do you have anything planned this week? Follow our ultimate dating hair guide using hairstyles with extensions to look stunning and seductive.
Your Brunch Date Hairstyles Start From Here!
Men prefer hairstyles with loose and touchable extensions, with subtle waves or soft curls. If you want to go for more swoon-worthy hairstyles with extensions, you can go for straight hair or an up-do.
The most important thing is to match your hairstyle to your clothes and style it correctly. How do you want to present yourself on your brunch date? Natural and understated, delicate and romantic, or mysterious and intriguing hairstyles with extensions? We have some suggestions for you.
1. Long Hair For The Brunch Date
Long Hair For The Brunch Date
If you're blessed enough to have long hair that doesn't require the use of hair extensions, keep it up all day, every day. If not, grab your hair extensions for long hair  because a head full of voluminous, luscious locks is the ideal hairstyle with extensions for any brunch date, whether with or without a boyfriend.
A head full of well-kept curls exudes confidence like nothing else. It's the number one go-to style that any female can get in minutes, whether it's loose, wavy, or elegant. Wear a circular barrette to the back of your hair for an extremely elegant look.
2. Elegant low knots
Elegant low knots Hairstyle

Top knots, I'll see you later. Low knots are here to stay, and they're not going anywhere. The low knot makes exceedingly elegant hairstyles with extensions that you can wear practically anywhere.
It's a sophisticated spin on the basic low bun. Make it sloppy and loose with a little teasing through the roots for a brunch date with your partner. You can also create a sleek and sensual for a night out with the gals.
Whatever you select, the low knot is usually a safe bet, and it's especially useful on terrible hair days (we've all had them).
3. Flick Your Hair into A Sassy Bob.
Chic bob hair
If you have short hair, you may be thinking that the hairstyles with extensions listed above will be tough to achieve. But have no fear, we've got the most effortless elegant hairstyles with extensions for you ladies.
One of our most flirty brunch dates is the lob (long bob) with a wind-blown side part. The ideal look for a movie and brunch date with your crush that doesn't make you look like you've spent four hours in the bathroom getting ready (although you might have).
Create loose waves with a curling wand, spritz with extreme strength hairspray, then run your fingers through for incredible volume.
4. Messy Ponytail Hairstyles With Hair Extensions
Ponytail Hairstyles With Hair Extensions
The chic messy pony is a modern spin on the classic messy pony that adds a little spice to your everyday 'throw it up' appearance.
These ideal hairstyles with extensions are great for a romantic breakfast date, binge-eating takeout, and binge-watching Friends (as well as the ultimate style for those lazy girls who don't want to get out the curling iron).
We recommend spritzing some volumizing spray on your hair to achieve that disheveled, carefree appearance.
5. Romantic Fishtail Braid
Fishtail Braid
The most romantic of all the hairstyles with extensions, the Fishtail Braid, may appear intimidating at first, but getting that perfect Blake Lively do (queen of braids) isn't as difficult as it appears.
A sloppy Fishtail braid thrown to the side is a must for romantic brunch and movie dates. The nicest part about this hairstyle is that it just takes a few days' worth of hair to achieve maximum volume (wow!).
So save those extra minutes of hair washing and blow drying, stock up on dry shampoo, and get ready to braid it.
TIP: If the Fishtail is too tough for you, do a faux fishtail braid by twisting little hair pieces together with transparent elastic bands and tucking them into each other through the braid.
Conclusion
We sincerely hope you enjoy these looks as much as we do. Try these hairstyles with extensions and amplify your look for the brunch date.
Shop for the best hair extensions from Diva Divine. Make amazing hairstyles using Virgin Hair and enjoy your moment.
Your hairstyles with extensions will never look this better by using Diva Divine's hair.