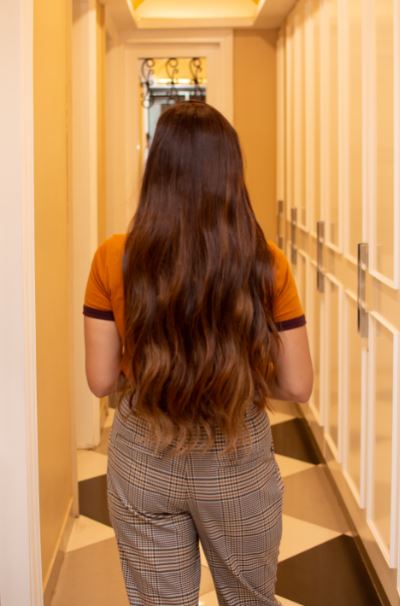 Colored Hair Extensions!
Every girl has at some moment in her life thought of trying out new hair colors. Be it a single highlight or global highlights, the temptation of hair color is uncontrollable. But the very next moment there is a thought of damaging your hair with all the chemicals and hair coloring just stays a dream!
And that's exactly why Diva Divine is here! Ever thought of hair color without damage? Here's how you can do that! Diva Divine's "Clip-n-Go Hilites" are the perfect colored clip-in hair extensions that allow you to try out different hair colors on different occasions, without even damaging your hair!
Here's how these colored Diva Divine Hair Extensions will help you in different ways!
The Ease
There is no need to spend hours at the salon to get your hair colored because these clip-in hair extensions can be applied by yourself in a few seconds! Just find the place where you want to clip them in, and you're done!
No Damage
The chemicals in a hair color often result in making the hair dry and in some cases also make your hair mature quickly resulting in grey hair. But the Diva Divine "Clip-n-Go Hilites" are an external hair extension weft that just needs to be clipped in your hair and so it causes completely no damage!
Wide Variety
Highlights should always be fun and Diva Divine makes sure of that with over 20 colors to choose from! Whether you're working, or a student - there's a color for everyone! And no matter what your hair length, you will find the suitable Diva Divine Hair Extension for yourself.
Added Volume
Applying Hair Extensions clips in your hair automatically adds that extra volume to it which you cannot get if you directly color your hair. So along with style, you're also creating glamorous and voluminous hair with these Diva Divine Hair Extensions.
So if you're someone who is up for a fun hair-do every day, Clip-n-Go Hilites are for you! Share your fun looks with us and tell us how the colored Hair Extensions help you every day!
Shop them at www.divadivinehair.com or visit our store in New Delhi, Hyderabad, and Mumbai!
Alopecia
The struggle of managing long hair is real but we still can't say no to it. In this heat we not only want to wear comfortable clothes, but we also need our hair to be in the most comfortable and ma...
Read more