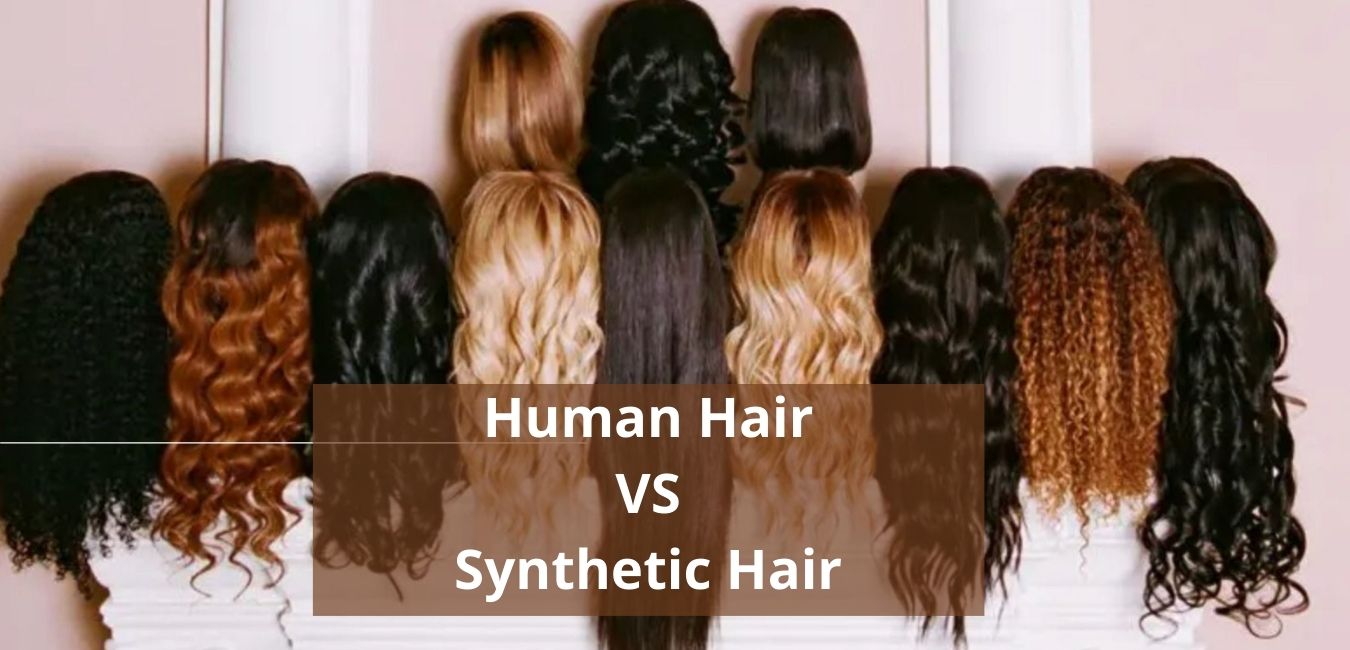 Human Hair VS. Synthetic Hair - Which One To Buy And Why
What do you think, celebrities, influencers, and reels superstars that flaunt luscious long tresses are for real? The answer is clear nooo. They wear high fashion Hair Extensions that Blend Seamlessly with Natural Hair as their everyday look. As the market for hair extensions continues to evolve, so do the varieties of material used in making them, and available types. A cursory search for Hair Extensions brings down two results: Human Hair Extension and Synthetic Hair Extensions.

The question that instantly pops to your head is which one is better? We would say maybe both. 
Optimally, both are right choices depending on your budget and needs. They each have their pluses and can be worn in different circumstances to add length and volume to your hair. In order to help you pick the best ones, we've drawn comparisons between Human Hair Extensions and Synthetic Hair Extensions and explained pros and cons of each. Let's get started!
Human Hair Extensions
As the name suggests, Human Hair Extensions are made from a variety of human hair ranging from Asian, Indian to European that ensure the most seamless, undetectable, and natural results. Human Hair Extensions are categorized in different grades depending on how the hair has been sorted, treated, and collected. Remy Human Hair is the most popular kind of human hair widely used for making wigs, extensions and other hairpieces. 



Remy Hair is the premium quality hair in which cuticles are kept intact and aligned in one direction. That's the reason why hair remains relatively tangle free for its lifetime. Remy Hair offers the most natural blend and appearance so that no one will ever get to know that you are wearing it.
Benefits Of Wearing Human Hair Extensions
Human Hair Extensions
Human Hair Extensions Offer A Natural Look
These extensions are very close to your real hair since they are made with human hair. They look and feel natural just like your own hair. It clearly means you don't have to worry about them getting exposed.
Last Long
One of the best advantages of wearing Human Hair Extensions is that they last for at least 1 year if given proper care. In fact, high quality extensions having 100% human hair like Diva Divine's 10 piece Clip-in Set: Straight (100mg) can last up-to 2-3 years! This for sure is the kind of investment that's worth buying once and forget for a longer time period!
Heat Friendly
The best quality of Human Hair Extensions is that they allow styling versatility just as you would play around with your natural strands. You can heat style and color them too however you want. In simple terms do whatever you want to do with them, treat them just like your natural hair!
Exception In Terms of Quality
If you talk about the top quality Hair Extensions, then nothing compares to the premium quality Remy Hair Extensions offer. They will stay smooth, shiny, bouncy and lively just as the hair of your dreams.
Downsides Of Buying Human Hair Extensions
Apart from the positives, there are a few downsides of Human Remy Hair Extensions too.
Downsides Of Buying Human Hair Extensions
High Price Point
Great quality demands good price and Human Hair Extensions are no different. You will have to spend good to bear good.
Tend To Get Frizzy In Rain Or Humidity
Human Hair Extensions have the same properties as human hair. That's why they get frizzy if exposed to humidity or rain.
Synthetic Hair Extensions
Synthetic Hair Extensions are made using a variety of artificial materials like acrylic, nylon, or polyesters. These synthetic fibres are heated and then made to go through tiny micro tubes to imitate the look and feel of real human hair. But that doesn't mean they are undetectable. They look artificial as they move differently and carry unnatural shine. So chances are high that people will notice it. 
If you're looking for an occasional look change, then you may buy them. They are a good option for those looking to add length and volume to their hair for a particular occasion without spending much on hair. Here are Some Pluses Of Using Synthetic Hair Extensions.
Benefits Of Using Synthetic Hair Extensions
Synthetic Hair Extensions
Inexpensive Way To Get Desired Hair
If the price point is something you can't ignore, then go for synthetic hair extensions. They will fulfill your purpose cost effectively. But please be informed that they begin to wear out after a few wears and they tend to appear noticeably fake.
Require Little To No Maintenance
One of the biggest advantages of wearing Synthetic Hair Extensions is that they keep the hairstyle intact despite the bad weather conditions like rain and humidity. Reason being, synthetic hair has memory and they stay however you want them to.
Synthetic Hair Extensions Come Pre Styled 
Some Synthetic Hair Extensions come pre-styled. You need not to waste time in styling your hair as they are available in curls and waves.
Downsides Of Synthetic Hair Extensions
Downsides Of Synthetic Hair Extensions
Synthetic Hair Extensions have more downsides than advantages, let's walk through them:
Less Life Span
Synthetic Hair Extensions stay up to 2 months and not more. Their average lifespan is way shorter than Human Hair Extensions. It clearly means even though they come inexpensive but they need to be repurchased quite frequently which will ultimately cost you the same as human hair.
Limited Styling Versatility
Synthetic hair can't be heat styled, colored or washed. In other words, you have no other option but to wear them exactly the way they look.
Identified Easily As Artificial Hair
Anyone can easily identify Synthetic Hair Extensions upon closer inspection. Before trying your hands on Synthetic Hairpieces, make sure you have made your mind to be poked and get identified by anyone for wearing artificial hair.
For your understanding, we've put the extensions beside each other and compared them for clarity:
| Feature | Human Hair Extensions | Synthetic Hair Extensions |
| --- | --- | --- |
| Age | 1 year or more | Not more than 3 months |
| Maintenance | High maintenance | Low maintenance |
| Price | Expensive | Cost effective |
| Styling options | Yes | No |
| Coloring options | Yes | No |
| Natural-looking | Yes | Not much |
| Quality | High | Low |
The Final Verdict
We would definitely recommend Human Hair Extensions over synthetic ones, without a doubt. Despite being affordable, our vote goes to human hair extensions as there are far more downsides of using synthetic hair extensions over benefits. What's the use of wearing hair that can't be styled, colored or washed? Maybe nothing at all!. Remy Human Hair, on the other hand,  blesses you with the longer and fuller hair of your dreams while taking away all the embarrassment and  headaches of bearing dull and limp tresses.
If you are still perplexed between the two, think this way: Human Hair Extensions call for a one-time buy. Synthetic Hair Extensions are like monthly bills that you anyhow have to settle every month!