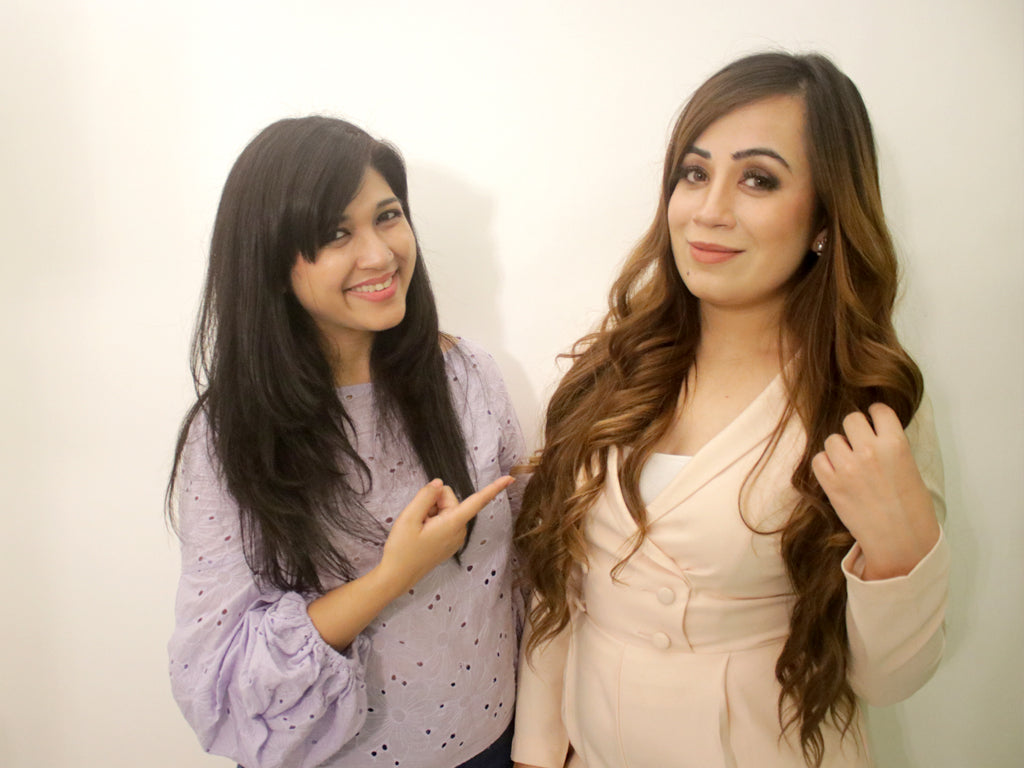 Myths about Hair extensions: DEBUNKED!!
We all have craved for that extra length, thickness and versatility of long & luscious hair just like our Bollywood stars.
Did you know: Hair extensions is the answer that you are actually looking for!
 Today, let's talk about some myths about hair extensions.

Myth 1: HAIR EXTENSIONS DAMAGE YOUR NATURAL HAIR
We all have heard rumors that, hair extensions cause damage to your natural hair, leading to breakage and in turn thinning your hair.
Perhaps, what you should know is that there are different types of hair extensions available in the market, and picking the right kind of hair extensions that suit your hair type is very important.
Tip: Always consult a professional hairstylist before making a purchase.
Our Recommendation: Clip-in hair extensions, are the safest form of extensions you can use, as they can be clipped in whenever you need it and removed after the event/day is over.

Myth 2: HAIR EXTENSIONS WILL NOT BLEND IN WITH YOUR NATURAL HAIR
Another common misconception that a lot of us tend to believe is that your hair extensions will not blend in with your hair color.
Considering all sorts images floating all over the internet, we were just as perplexed as you.
But there is a catch: If you choose the right set of hair extensions matching your hair type & hair color,, all you need to be cautious about is to learn how to clip them in and style them.
 For better experience, walk-in to a professional hairstylist.
 Myth 3: HAIR EXTENSIONS ARE VISIBLE
Let's face it, no one wants to share their secret of having long and lustrous lock easy!
In fact, we are more cautious about keeping it even discrete most of the times.
The Idea is: if you clip-in your extensions rightly, they will blend-in properly. For a fact, many brides wear their hair extensions throughout the night, with no issues of wefts or tracks showing through. 
 Myth 4: EXTRA HAIR WILL WEIGH YOU DOWN AND GIVE YOU HEADACHES
This statement is not completely true!
Let break the ice: As you clip additional hair onto your head, it will always feel a little heavier than normal and it also depends on weight of your hair extensions you pick for yourself.
For instance, if you clip-in a set of 220 gm hair extensions in, your head will feel exactly the 220 gm heavier.
Myth 5: HAIR EXTENSIONS TANGLE AND ARE USUALLY HIGH MAINTENANCE

One of the best parts about clip-in hair extensions is that, they do not need professional salon care or maintenance.
Like we said before, just like you take care of your own natural hair, hair extensions need to be treated the same way, as it's 100% human hair.
Also, let us tell you these extensions will live a long and healthy life.
Bonus Tip: As Clip-on extensions aren't attached to your scalp, there is no chance of your extensions to get oily. Therefore, there is no need for it to be washed frequently.
Did You Know: If your own hair is prone to tangling, then it may naturally cause the extensions to tangle with it, however, you can use a Loop Brush or a detangler comb periodically. Click here to view 

Stay Tuned, in case you have heard of any other myths, drop your queries in the comments below, and we will arrange a call back/answer to the same.