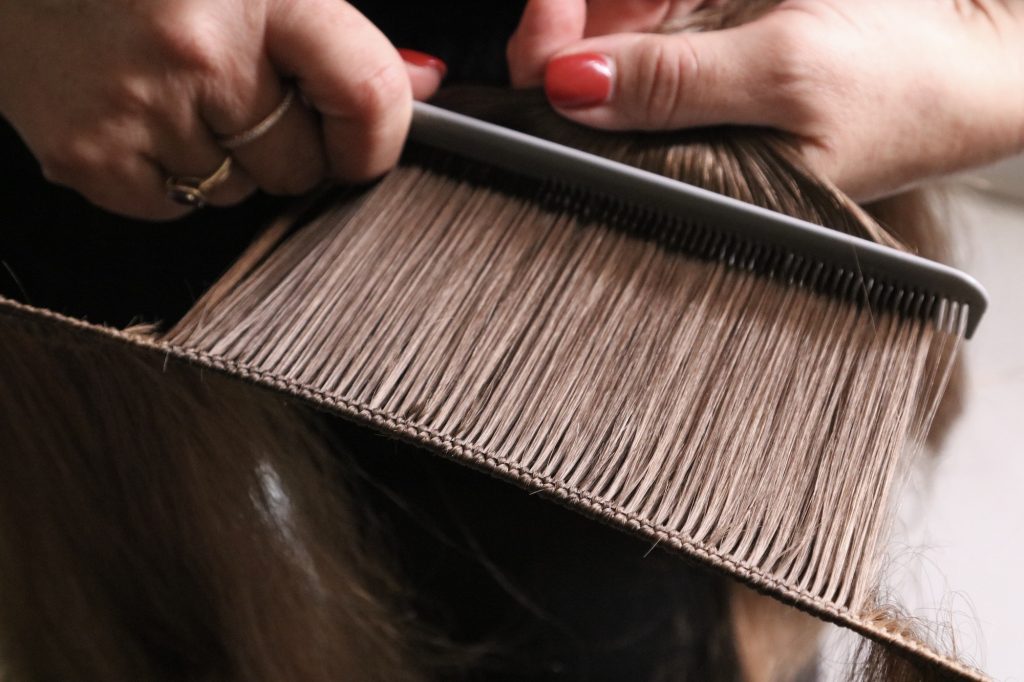 Top Hair Extension Crimes You Should Stop Committing Right Away!
How do you think your favorite celebrities or B'town divas go from a bob to long beachy waves overnight for their red carpet looks? Hair extensions are the key behind those edgy, glamorous looks that you fall for. You can sport hair extensions to make your hair look on point and emulate their looks to satiate your desire to have long luscious locks. 
If you already have long tresses, then we envy you. But for those (like the majority of women) who lack length, shine, and volume, hair extensions are the best bet. They are not just leveraged for adding longer and fuller hair; you can also wear them to experiment with different hairdos, like clip-in streaks, bangs or fringes, or ponytail extensions, to name a few. But before you take the plunge, there are a few thumb rules that you should know to keep hair extensions flawless and new for extended use. 
Whether you are a hair extensions veteran or someone who's got their hands on the first-ever hair extensions set, there could be a few minor looking but major impacting mistakes you might be making unintentionally. With the view to help you identify the common hair extension mistakes you've been making all this while and save you from committing them in the future, we are here to unveil those mistakes and suggest fixes for their long life.
Wearing Hair Extensions Too High
Know the right height to wear hair extension
Little did you know that wearing hair extensions at the wrong height could be as dangerous as wearing the wrong pair of shoes on your wedding day. Many of us don't realize the mistake of wearing hair extensions too high on our scalps. Admit it if you also do the same? (Wink, wink!) You don't want to disclose the secret of your mermaid-like fuller and longer hair by letting your extensions be visible from top angle shots. So, what's the fix? How do you manage? Simply by making it a thumb rule of not clipping any hair extensions above the eyebrow level and Clip them as close to the hair roots as possible. 
Another great fix is to use our clip 'n' go 10 Piece Clip-in set made of 100% human hair, which blends seamlessly with your hair. The best part, you can color them or style them, just like your own hair.
Color Matching Gone Wrong
Match the color of your hair extensions wisely
How many of you match the color of your hair roots with hair extensions to buy the right one? Probably, most of us! But, that's what you shouldn't do. Instead, match the mid and end part of your hair as that's where hair extensions need blending. The reason being, hair roots tend to be different from the rest of your hair color; they can be darker or lighter. So, the next time you do the matching, don't forget to match the middle part of your hair. 
For flawless bending and cohesive look, you can explore our wide range of real human hair extensions that seamlessly blend with the color of your hair, making it feel and look natural from root to tip. If you are longing for a complete makeover and purposely want to add a pop of color to your hair that's different from your natural hair color, consider buying a full lace wig too
Aggressive Combing Isn't Good
Learn the right combing trick when hair extensions are on
When you wear high-grade human hair extensions that are super seamless and undetectable, you sometimes forget that you've hair extensions on. But, you shouldn't forget that you've extra hair clipped or taped to your scalp. So, it's recommended that you never comb your hair from the top, else you'll run into the risk of extensions falling apart since you're pushing them downwards by doing this. So, the question arises, how do we go about it? Relax, what's the hurry? We've got you covered. Here's the right trick of combing your hair when your extensions are on.
Make a middle partition and let your hair sit equally on both sides of your shoulder

With the help of wide tooth comb, start combing from bottom to top

Gently brush the bottom part of your hair first

Gradually make your way up towards the scalp

Keep your hand soft while combing and gently untangle your hair; voila, you're done with it.
Exposure to Harsh Chemicals
Avoid Silicone based hair products
If you're someone who blindly trusts shampoo commercials that claim to make your hair long and strong, then you need to think again. Hair sprays, gels, shampoo, and conditioners contain harsh chemicals that make your hair dull, brittle, dry, and unhealthy. It indicates they're not suitable for your hair extensions as well. Before buying hair care products, always check they don't contain harmful chemicals like parabens, alcohol, triclosan, sodium lauryl sulfate, etc. Excessive washing and conditioning your hair with these harsh chemicals can cause hair breakage, hair thinning, even worse, hair loss. 
Pro Tip: Strictly avoid washing hair extensions with silicone-based shampoos and conditioners as they could make them loosen and fall off. If necessary, use a dry shampoo for cleaning them; otherwise, they'll look dull and worn out.
Sleep with Wet Extensions
Never sleep with wet extensions
Sleeping with wet hair is not a good practice, as damp hair is at its weakest state when wet. It is highly likely to break. Wet hair gets tangled, and knotted which is easy to fix. Even if the need arises, make sure to use a silk pillowcase or wrap your hair with a silk scarf to prevent matting. The same is the case with your hair extensions; after all, they are also hair, if not yours. 
Too Much Heat styling
Stay away from heat styling tools
Though premium quality human hair extensions can be heat styled or colored just as your natural hair. But that doesn't necessarily mean picking your blow dryer to create a certain look. Exposing your hair to heat styling tools can severely damage your hair cuticles and make them dry. 
If necessary, air dry your hair or keep the heat setting low of the blow dryer and put heat protectant spray first; otherwise, you'll lose the original shine of your natural hair. And, not to mention, you'll end up damaging your precious hair additions too.
The Bottom Line
When you get hair extensions, it becomes your responsibility to treat them with equal care as you do for your natural hair. Also, you must choose the right and light weight hair extensions that don't pull your hair and make you feel uncomfortable. You need to follow a strict hair care regimen like ensuring proper hydration to your hair, avoiding chemical-based products for washing, avoiding heat styling tools, having a daily brushing routine, etc. Once you get your hair extensions installed, opt for a hair trim to make it look all-natural. 
Now that you're aware of these golden thumb rules of keeping your hair extensions looking their best, make sure to start practicing these hair extension care tips from today onwards.