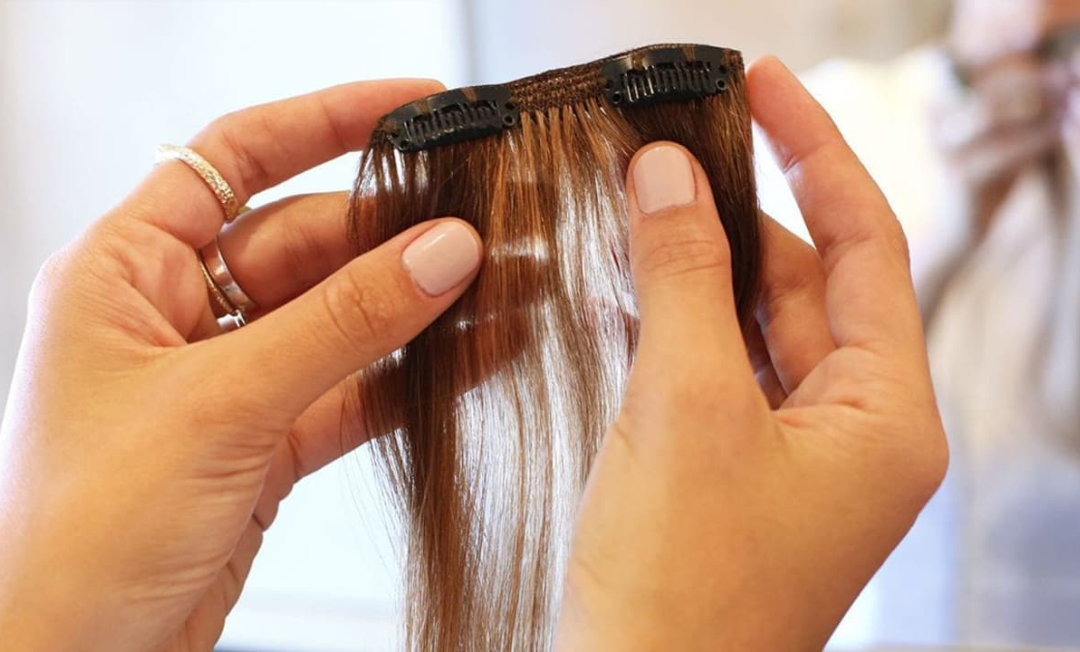 7 Clip-In Extensions For Incredible Hair Volume.
Hair is a woman's prized possession, and we often go an extra mile to care for and maintain it. After all, hair is the first thing people notice when they see you!

In the spirit of trying a new look, do you often regret your new haircut? Or do you believe your hair could benefit from additional volume?
If you responded "yes" to these points, you should look into clip-in hair extensions for length and thickness and for that instant change to your over all look.
When you're in a hurry, these small yet effective installations are one of the simplest techniques to liven up your hair by elongating and adding volume to it! They're quite simple to use: clip them to your hair, style your hair a little, and you're ready to go!
Due to the ever-growing popularity of clip-in hair extensions, you can find them everywhere. However, if you are looking for quality (only the best for your hair), then we have a slew of options for you at Diva Divine.
Read on to find the Long and Luscious Clip-in Extensions with Diva Divine
#1 5-Clip Ear-To-Ear- Volumizer
Gorgeous volume and length with curls
The magnificent 5-Clip Ear-To-Ear Volumizer tops our list. The 5 clip-in 100% human hair extension provides ear-to-ear coverage, blends in gorgeously with your hair, and provides just enough volume to give you a flawless look.
The Volumizer is a versatile and easy-to-use extension that adds instant length and volume to your hair without the wait.
Since the clip-in hair extension is made with 100% human hair and a quality lace base, you can color and style it any way you want!
Features Of The Volumizer
Provides Ear-To-Ear coverage.
The single clip-in extension is available in 6 stunning lengths, from 18 to 28 inches!
You can choose from 24 bright and rich hues– you can even dye them to achieve a unique look.
#2 LUXE 10 Piece Clip-In Set
Before and after LUXE 10-Piece Clip-In Set
Now, if you want that Bollywood-inspired length and volume without the wait, there's nothing quite like the LUXE 10 Piece Clip-In Set!
This 10 Piece set's glossy flow provides tremendous length and fullness that blends effortlessly in moments! The machine-tied clip-in also offers the best stability and is thick from the weft to the tips.
Features Of LUXE 10 Piece Clip-In Set:
Available in a straight texture with the ability to formulate curls and waves with heat-styling and heat-less tools.

The entire set weighs 160 grams to provide that dramatic Bollywood length and volume.Available in 2 lengths; 18 and 22 inches, and 24 gorgeous hues!

Top Selling Products With Pay Later Option!

#3 The 6-Clip Hair Extension
A great volumizing clip-in extension
If you want thickness and length without using too many clip-in hair extensions, then this 6-Clip Hair Extension is the perfect alternative. The clip-in extension contains six connected clips to form a honeycomb design for a fuller and natural appearance.
The installation is absolutely easy and gives your hair that additional boost of volume for your hair. You can experiment with various styles without actually damaging your hair!
The 6-quality clips keep the extension in place as you showcase your wonderfully flowing hairstyle! This type of fishnet clip-in extension will last up to 3 years with proper care!
Features Of The 6-Clip Hair Extension:
The 100% human hair clip-in extension is available in 6 lengths, starting at 16 inches and going up to 26 inches.
You can choose from 20 wonderfully rich colors for the most seamless look.
You can heat-style the single set to create mesmerizing waves and curls of your dreams.
#4 10-Piece Clip-In Set
Straight 10-Piece clip-in for gorgeous volume
Feel the abundance of volume and jaw-dropping lengths with Diva Divine's 10-piece Clip-In Set in minutes. Once you find the perfect color, it will look completely natural, and you can style it the way you want without any color damage!
You can use only a few clip-in extensions to add thickness where you want with just a couple of pieces. The 10-Piece allows you to experiment with various styles while maintaining the volume and length of your hair.
Features Of The 10-Piece Clip-In Set:
The incredible clip-in is lightweight.
You can choose from 24 vibrant colors and 7 lengths.
It is extremely versatile and durable.
#5 The 4-Clip V-Shape Clip-In Extension
Incredible volume and oomph
Are you looking for a single system clip-in extension with even fewer clips? Well, this 4-Clip V-Shape Clip-In Extension is the one for you! It is made entirely of human hair, which means you can curl, perm, and even straight them, while adding volume to your hair without any wait!
The three clips spread across the top section ensure the extension stays in place, and the single clip at the bottom offers additional support.
Choose a colored V-Shape Clip-In Extension to add breathtaking volume to your color-treated hair, and watch it blend beautifully!
Features Of The 4-Clip V-Shape Clip-In Extension:
The single clip-in hair extension is made with 100% human hair and is incredibly versatile.
It is a game changer; extremely easy to install, and you can get gorgeous volume without visiting a salon.
You can choose from 4 incredible lengths and 11 colors to meet your styling needs.
#6 Clip-In Hilites
A hint of blue with volume
If you love keeping up with hair fads, especially hair color and volume, look no further than Clip-In Hilites. These clip-in streaks by Diva Divine let you experiment with various bright and vibrant colors in seconds.
You don't have to worry about color or bleach damage or wait for hours in the salon chair to achieve the desired hue!
The quick installation and realistic results make them one of the best products in the market.
Features Of Clip-In Hilites:
The vibrant clip-in hair extension is easy to install and free of tangles.
It is beginner friendly and comes in both single and triple clips.
There are a plethora of color alternatives available in 18 inches to make your style dreams a reality.

Buy Now Pay Later Products For You!
#7 Clip-In Ponytail Extension
Voluminous bun with a clip-in ponytail
We couldn't possibly leave out the cult-favorite Clip-In Ponytail Extensions. Diva Divine's Clip-In Ponytail Extension is the perfect weapon to recreate iconic ponytail hairstyles of pop star Ariana Grande to Bollywood's favorite, Bebo.
The clip-in ponytail is revolutionary because it adds immense volume to limp ponytails and buns. As it is made with 100% human hair, you can heat-style, color, and wash it like your own hair! You can go sleek, polished, daring, or curly with the easy-to-use clip-in ponytail extension.
Features Of Clip-In Ponytail Extensions:
The gorgeous and volume-packed clip-in ponytail comes in 21 rich colors.
The two clips and built-in comb, together with the velcro, provide an excellent grip.
Beginner-friendly and extremely versatile.
Use the best clip-in hair extensions mentioned above to flaunt long, thick hair without the wait because there's nothing quite like them! Clip-ins are the best solution if you are in a hurry or want a quick and voluminous makeover!
So, are you ready to try clip-ins? Browse through Diva Divine's collection of 100% human hair clip-in extensions for captivating volume and breathtaking length in various colors! Shop today!