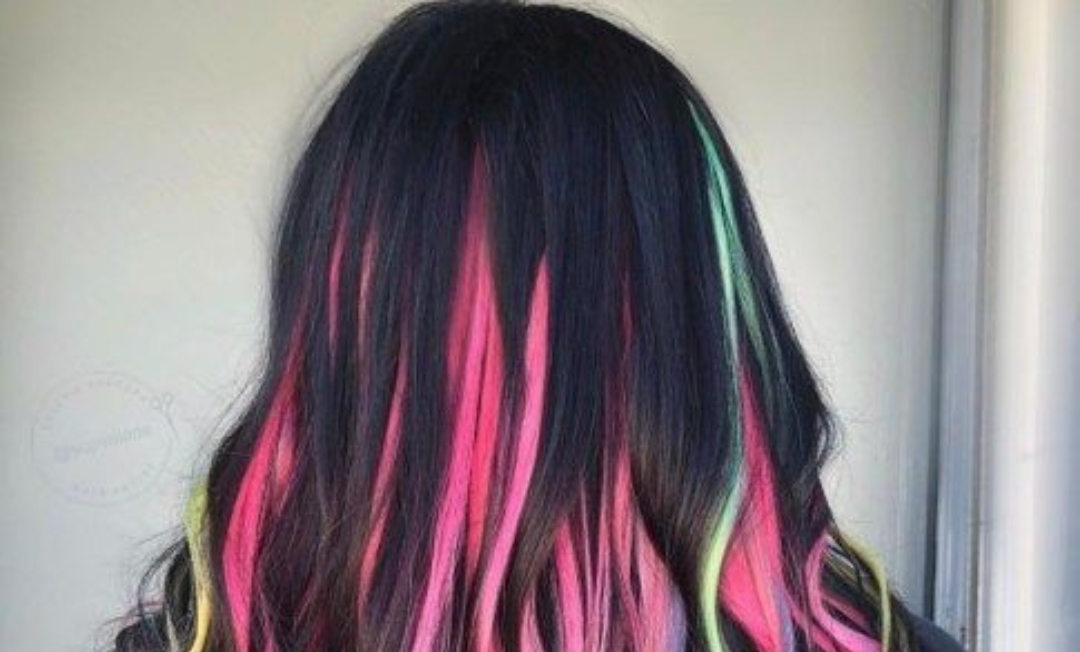 Why Colored Hair Extensions Are a Better Alternative To Dyeing Your Hair
What is a hairstyle without a splash of color, right? From a variety of brunettes to deep green or blue, there's no limit to making your hairstyle stand out. However, in the glitz and glamor of stunning colors, people often don't think about the consequences of bleaching and coloring hair until it's a bit too late. 
There are numerous reasons you should avoid dyeing your hair, ranging from health concerns to burning your strands (which we will discuss in detail below). The short-term vibrant color is not worth the damage. 
This blog will help color fanatics experiment with rich hues without dyeing or damaging your hair. Continue reading to learn all about it!
Why You Must Avoid Hair Dyes
Why you ought to avoid hair dyes
Don't get us wrong; we absolutely love every color and technique that is involved in the process from highlights and lowlights to balayage, ombre, babylights, and everything in between. Still, we also understand the damage your hair goes through.
As fun and exciting as hair coloring are, the harsh chemicals mixed with strong bleach have adverse consequences on your hair. Knowing the side effects before considering dyeing your hair is important. Because once you go through the process of coloring your hair there is no U-turn in it. What's done will be done. So better equip yourself with all the knowledge beforehand and make all your decisions then.
Shop Now Pay Later For Better Hair Volume
Side effects of dyeing your hair with hair dyes and bleaches
Over Processing
Permanent hair dyes widely contain ammonia (or compounds identical to it) and peroxide. The ammonia penetrates the hair shaft, while the peroxide bleaches out the natural hue of your hair, removing the color from it. This technique loosens the cuticles to enter the hair cortex and bleach its healthy pigment, ultimately leading to hair damage.
Excessive use of these agents will lead your hair to lose shine, break easily, and, in severe circumstances, wash away with water. While hair care products can help revitalize processed hair to some degree, the only option to repair the damage caused by over-processing is to cut your hair.
Allergic Reactions
It is not unusual for hair dyes to induce allergic responses, especially since permanent hair dyes comprise paraphenylenediamine, a frequent allergen. You should completely avoid hair dyeing if you have skin conditions like psoriasis and eczema. Itching, rashes, inflammation, and redness around your neck and face are all common side effects of permanent hair dyes.
Another aspect to remember while using hair dyes is that just because you haven't had an adverse response before, this doesn't guarantee you won't experience one in the future. The more you color-treat your hair, the more likely you will have an allergic response.
Conjunctivitis
Failure to use extra care when coloring your hair could result in chemicals contacting delicate areas of your face. When hair color agents come into contact with your eyes, they can cause conjunctivitis or eye infections. It will result in extreme discomfort and inflammation in severe cases.
Asthma
One of the signs of a chronic allergic response to hair colors is asthma. The prolonged inhalation of the chemicals in hair colors can cause breathing problems, wheezing, lung inflammation, throat pain, and asthma episodes.
Upkeep
While this is not exactly a side effect, it can be a source of concern for many. Many are oblivious to how much work goes into maintaining colored hair. It is a long-term commitment that will require you to return to the hairdresser every other month, which can be damaging to your hair and pocket.
Easy To Use Hair Extensions
Colored Hair Extensions To The Rescue
So, how can you flaunt gorgeous colors without dyeing your hair? Well, these nifty little things called colored hair extensions will change your life! That's why we always advocate for choosing colored hair extensions as an alternative to coloring hair. 
So, let's look at how you can flaunt breathtaking hair colors without dyeing your hair!
Clip-In Hilites
A hint of blonde ends with Clip-In Hilites
Flaunting those envious highlights for a party or for a special occasion has never been easier, thanks to Clip-In Hilites. The human hair clip-in extensions are available in a wide range of blondes, greens, blues, pinks, and shades of red. Simply place the colored clip-ins where you want to add a bit of oomph and you are ready to rock the party! These extensions allow you to achieve an appearance of bright highlights without dyeing your hair. 
LUXE 10-Piece Clip-In Set 
Beautifully blended colored extensions
Don't want to spend hours at a salon or risk damaging your gorgeous hair by bleaching, but want that longer, fuller, and brighter look? Well, for occasions when you want a ton of volume and color throughout your hair, the LUXE 10-Piece Clip-In Set is a perfect choice. The 10-Piece Set has 10 wefts of various sizes that you can use together or slim down by wearing only a few pieces at once.
The hair extension set offers the best stability while blending beautifully with the rest of your hair. You can choose from various natural, blonde, and red tones in multiple lengths! 
4-Clip V-Shape Clip Extension
Fiery red with V-Shape Clip-In
Getting a headful of hair and gorgeous color has never been easier. There's no color or bleach damage, and you still get that gorgeous and vibrant look you have always wanted! Unlike the 10-Piece Set, the 4-Clip V-Shape Clip Extension is a single-piece extension with 4 pressure-sensitive clips strategically placed.
You can choose from a slew of lengths and endless color options for natural and blonde tones along with grey.
Hair Extensions for Color
Benefits Of Colored Hair Extensions
Ease Of Use:

Thanks to colored hair extensions, you don't need to spend hours getting your hair bleached and colored at a salon. Snap the clips, and you're done! 

No Damage:

Since your hair doesn't undergo the process of harsh chemicals, you get gorgeous and vibrant colors without any damage. 

A Slew Of Options:

Whether you are going out or getting dolled up for an IG post, there are many color options! Channel your inner color-diva with multiple colored extensions! 

The Added Volume: Aside from being able to flaunt beautiful colors, these extensions add incredible volume and length to your hair. 
Colored Extension Hairstyle Inspirations
Gorgeous Dark Hair With Bronze Highlights 
Beautiful layered style with bronze-colored extensions
A layered hairstyle adds dimension to your hair, and subtle bronze highlights for dark hair provide a refined hairstyle that looks great whether your hair is tied up or down. It is a great hairstyle with texture, body, and beautifully blended colors with Clip-In Hilites.
Honey Blonde Hair With Center Parting 
Honey blonde hairstyle with a center part
Do you want to go fuller and brighter? Then, consider using blonde LUXE 10-Piece Hair Extensions to your dark brown or black hair. It creates a beautiful contrast regardless of your skin tone. Thanks to colored human hair extensions, you don't even need to consult a colorist. Just pop the Set of extensions, heat-style it, and you are done!
Wavy Dark Brown Hair With Gorgeous Babylights
Gorgeous babylight style with colored hair extensions
Try some stunning golden babylights to freshen up your style without overpowering your dark hair with colored hair extensions. It is a fantastic way to make your color-treated hair vibrant and rich. The stunning waves add character to your hairstyle, and you can flaunt it tied or loose.
Coloring hair is a fun and exciting way to experiment with your look, but the untold side effects can prove extremely unhealthy for your natural hair. However, with the slew of colored hair extension options, you no longer have to put your hair through any damage! 
Browse through Diva Divine's collection of human hair clip-in extensions and choose a color that speaks to you! All of the colored hair extensions can be heat-styled and treated like your natural hair, and they are incredibly easy to maintain! Flaunt the desired look today!