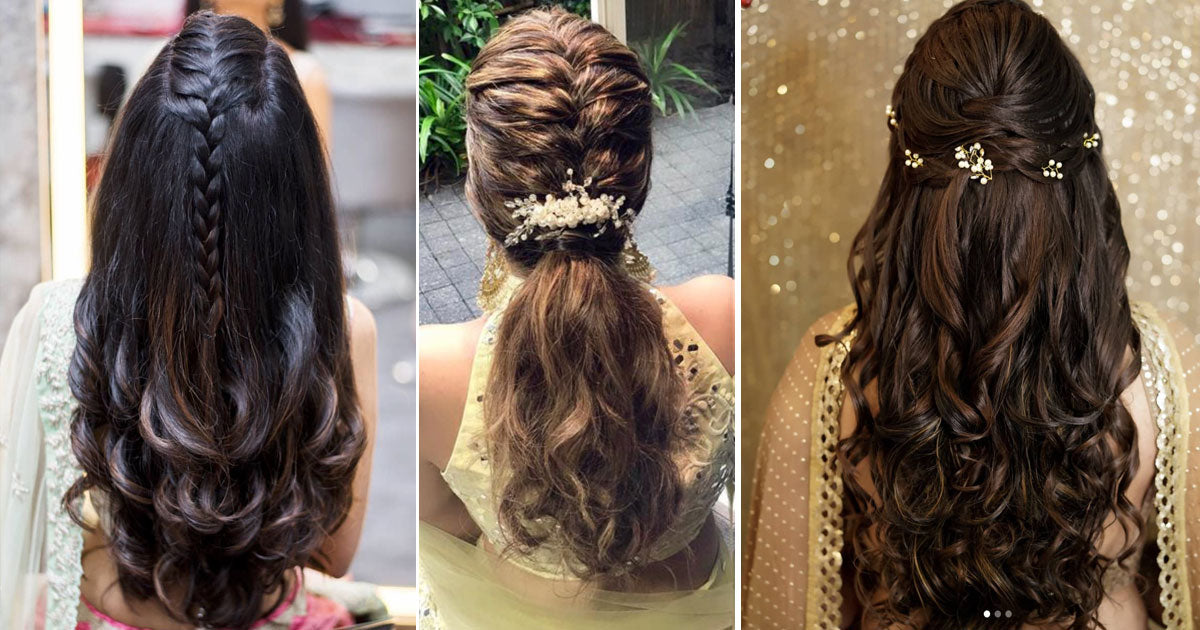 All Decked Up For Diwali? Here's How Your Hair Should Look Like
Diwali is just around the corner and like every year you must have made plans of renovating your house, changing its old settings like furniture, fixtures, lights etc to ensure it mirrors your tasteful elegance. Just as the way you want your house to look perfect for the biggest auspicious occasion of the year. It's the perfect time to jazz up your appearance and embrace your prettiest selves. It's the time of the year when you're extra excited about your outfits and looks (to be precise) and want to ensure everything from head to toe should look on point.  
You are all sorted for Diwali outfit and decided on the make-up. But, what about that limp and dull hair? You are still perplexed. A bad hairstyle can completely mar your entire look and of course, you won't let that happen at any cost at least not at the cost of a salon visit. So, what's the permanent fix? Hair extensions is that light at the end of the tunnel. They are a great excuse to experiment with different styles on your hair to lift your festive spirit. Hair extensions seamlessly add length and volume to your hair, allowing you to make all elegant and unique hairstyles that you've eyeing for but couldn't make because you have thin pen-like strands. So, girls, we're listing down 7 gorgeous easy to do hairstyles that you can try at home. We're pretty confident that these hairstyles will make your Diwali looks effortlessly chic!! 
Traditional Bun With A Twist
No hairstyle can be more traditionally Indian than a conventional bun. Its simple yet stylish approach enhances your poise and makes it a pure trademark for any celebration look. You can give a sassy twist to a traditional bun by making it super cute and girly. For that, you need to twist some hair from the front and wrap them neatly into a coil secured by elegant bobby pins. This look comes out beautifully on long hair and if you don't have long and thick hair, then you get them installed using hair extensions. Try our 10 Piece Clip-in Set to instantly add volume and length to your hair. It's made up of 100% human hair and blends in easily with your natural hair. You can colour it and style it the way you want. What more could you ask? Don't forget to accessorize your hairdo with flowers and complete your look by wearing some polki jewellery.
Twisted Side Braid
It is one of the most iconic hairstyles that is often sported by celebrities in the events. If paired with a bright outfit of Diwali and big chunky earrings, it can certainly make to the head-turner hairstyles list. All you need to do to achieve this hairstyle is to take your hair to one side and part them into three equal sections. Start braiding by putting the twisted middle section from side to the middle until you reach the bottom of your hair. Leave some hair unattended at the end as you do with a regular braid. Secure your braid with an embellished band and you're ready to dazzle. If you want your braid to look thick and voluminous, add a little touch of spice by buying  Clip-In Ponytail Extension for yourself. We bet that you are surely going to enjoy Diwali with this ever trending traditional hairdo. Keep your makeup minimal and wear chandbaalis to glam up your appearance this Diwali!
Half-Up Puff
If you want your hair to get styled in a jiffy, then this hairstyle is for you. Half-up puff never goes out of vogue and illustrates your brilliant sense of style. You just need to make a simple puff by tucking the middle portion of your hair on the top of your head and let your long luscious hair rest on both sides of your shoulder. You can amp up your look by wearing Jhumki's and tiara to give an ethnic touch to your overall look. Try Invisible Parting Topper to get an ultra-stylish and classy look!
Pulled Back Updo 
You're definitely going to try this easy to do endearing hairstyle this festive season. If you're an amateur in making hairstyles or don't like spending much time doing your hair, this hairstyle is for you.  It typically goes well with long-haired people and doesn't require much effort. The first thing that you need to have to make this hairstyle is long and voluminous hair. If you naturally have long and strong hair, then no one is truly blessed as you. But if you lack longer and fuller hair, you need to try your hands on our Luxe 10 Piece Clip-in Set hair extensions.
Before making this hairstyle make sure you have washed your hair and dried them too. Let your hair air dry and comb them nicely. Start off by making a deep middle partition and with the use of your fingers take two sections of your hair from either side. Allow your hair to breathe and don't pull it. Let the sections of your hair hang freely. Use tic-toc pins to secure these sections at the back. Don't forget to apply the anti-frizz spray in the end to tame your flyaways. 
Side Swept Hair
There's nothing more than beautiful than seeing an Indian woman draped in a saree with long and voluminous hair touching her back. To pull off this hairstyle beautifully you have to do nothing but to keep your hair open and let them fall graciously on your shoulder. Sweep all your hair to one side and tada you're all done! This hairstyle goes well with all types of fusion and ethnic wear. If you don't have long hair but still want to enjoy the feeling of long flowing hair, then you can opt for Luxe 10 Piece Clip-in Set: Straight. Dazzle this Diwali with the confidence of having long luscious strands and enjoy the festival of lights with your loved ones! 
Well, the above-outlined hairstyles are some of the easy to do hairstyles that you can try this Diwali with minimal effort. So, what the wait? Go, and make this Diwali a memorable one with your loved ones. Wishing you all Happy Diwali in Advance!