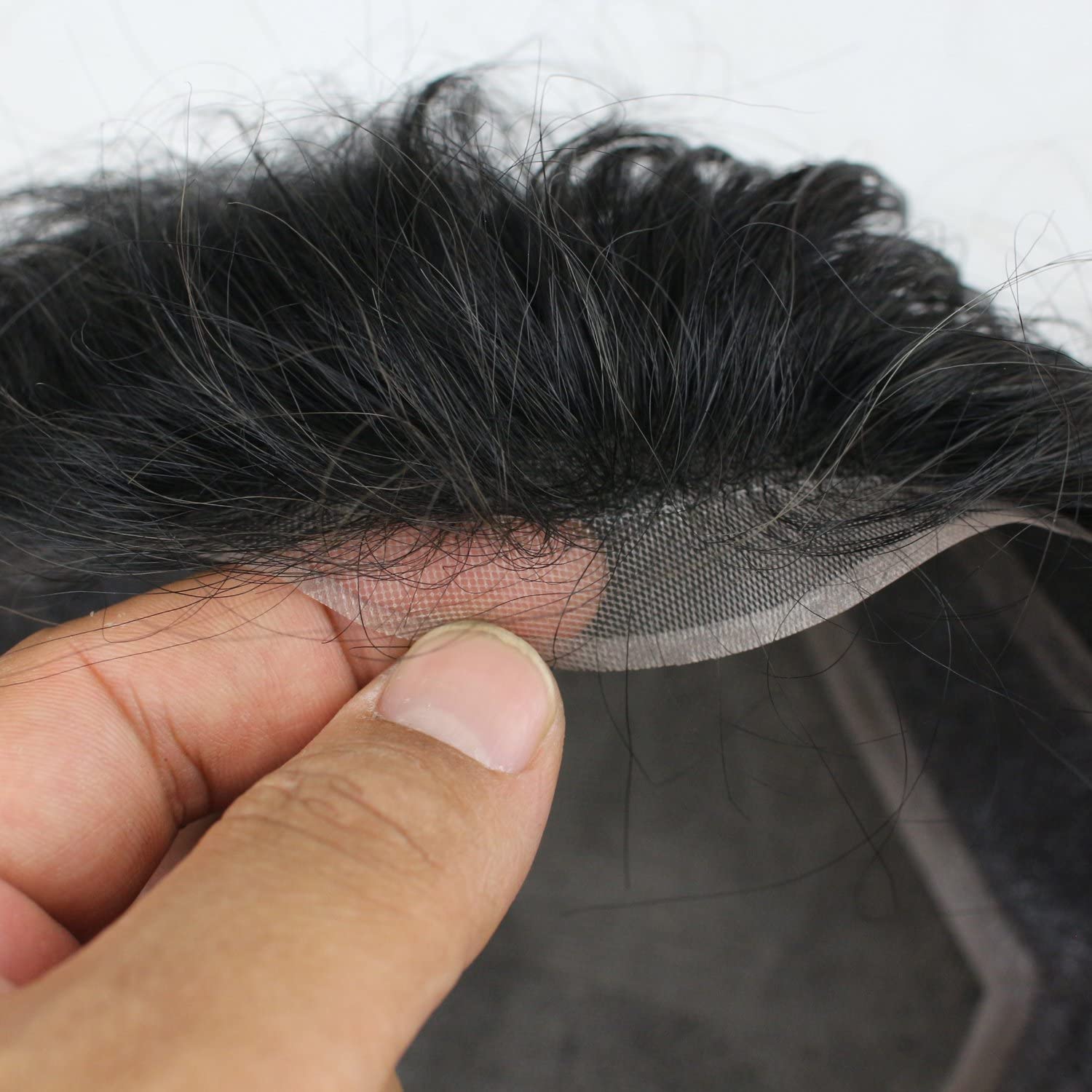 Are Lace Front Wigs Hot And Uncomfortable In Summer?
Lace front wigs have become a practical hair accessory for women regardless of their age. Lace fronts are a convenient and quick alternative to spending hours in the morning fixing your hair before going to work.  They allow you to experiment with different looks without having to pay huge salon bills unnecessarily.  treatments.
Wearing lace front wigs is usually comfortable, but it can feel slightly uncomfortable in summer as the temperature and humidity rise daily. Rising temperatures in summers can bring spells of humidity and heat, which can make your scalp feel sticky or uncomfortable while wearing the lace wig.
Take a look at how you can fight the hot and uncomfortable feeling in summer while wearing lace front wigs. 
How To Stay Cool While Wearing A Lace Front Wig?
There are a lot of things you can do to enjoy summer while still wearing a lace front wig. Continue reading to find out what you can do to stay cool while wearing a lace front wig in summer. 
Begin By Wearing Lace Front Wigs With French Or Swiss Lace
Wear lace front wigs with French or Swiss lace
Lace front wigs are one of the most innovative wigs available in the market. The lace covers the whole front area of a unit; it starts from one ear and continues all the way to the other end.
You feel hot and uncomfortable when you wear lace frontal wigs because of the lack of airflow to your hair and scalp. We all sweat on our heads, especially when it's hot outside.
Both French and Swiss lace is extremely thin and fragile and allows breathability, which is why you need to wear lace wigs made with either French lace or Swiss lace. 
The wig's hair is usually sewn individually into the base of the lace, resulting in breathability. This, combined with the thin lace in the wig's base around the front, provides more ventilation.
Wearing wigs that are entirely affixed to your head with little to no ventilation makes hot days feel even hotter. More airflow results in combating heat and feel cool. 
Switch To A Mint-Based Shampoo
Wash your hair and wig with a mint-based shampoo before installing it. Even after you install the wig, the mint will leave a cooling effect on your scalp. Mint-based shampoos are easily available in stores, and you also have the option to shop online. 
Keep A Spray Water In Hand
Carry a handy water spray with you at all times
When wearing lace front wigs, fill a tiny spray bottle with water and carry it with you. When it gets too hot, the water within the bottle can be used to cool it down. Most cologne contains alcohol, which gives you an immediate impression of freshness.
Summertime is excellent for showing off your beautiful cap. Many women have difficulties managing their hair in hot and humid climates. Wearing a lace wig in the summer may appear to be a bad choice, but if done right, it can keep you comfortable and cool all year long while still looking great.
Wearing human hair lace front wigs in summer offers a useful purpose in addition to looking beautiful. Extreme weather conditions, such as heat, sunlight, and pollutants in the air, can all harm your hair.
Take Cap Construction In Mind 
Take cap construction into consideration 
All wigs fall under closure wigs, 360 wigs, lace front wigs, hand-tied wigs, and full lace wigs. The black cap area of wigs that sit on the head, sometimes referred to as the dome cap, is included in all types of wigs. The cap is made with thick material and traps heat in, and offers limited ventilation.
Shop For Lace Front Wigs With Low Hair Density 
Lower the density lighter it will feel
When looking for your new wig, make sure to check the hair density. It's preferable if the number is as low as possible. Shopping and wearing lace frontal straight, curly, or wavy wigs with low hair density will make summer much more comfortable and cooler.
Donning a long lace front wig in summer seems like a great idea, but in reality, it's a sure way to pack excessive heat in no time. Sport lace front wigs in shorter lengths during the summer to help with ventilation. 
Avoid Heat Styling Your Lace Frontal Wigs In Summer
Avoid heat styling in summer, wear curly and wavy wigs instead
It might sound like a bummer, but you should avoid heat styling your lace frontal wigs in summer. Putting on wigs that have been freshly heat-styled is a bad idea because it will cause you to overheat. 
Staying away from heat styling tools will also make your lace front wigs last longer. 
Wear Different Up-Do Hairstyles 
Wear updos to promote airflow 
Wearing your lace wig in an updo away from your neck can help you stay cool and comfortable and take the weight off your neck and back. 
Try braided updos or buns instead of ponytails because ponytail hairstyles tend to absorb sweat as the hair moves back and forth.                    
Keep Your Hands Off Your Wig
Everyone is guilty of touching their hair, but it needs to be avoided, especially in summer. 
Our hands become sweaty too, and it becomes weighed down and warms up things by adding that sweat to your wig's hair. This summer, do you want to stay cool? Make sure your hands aren't in your hair.
Invest In A No-Sweat Liner 
A no-sweat liner provides more ventilation under your wig and enables airflow. It works by preventing sweat from forming and collecting any that does. They also prevent sweat from getting into your wig cap if it does develop.
Switch To Lighter Lace Front Wig Colors 
Choosing a lighter-colored lace front wig is a fun way to keep cool in summer. 
Darker lace front wigs are beautiful, but to make your summer comfortable and enjoyable, you should switch to lighter colored lace front wigs. 
Darker-colored lace front wigs absorb more heat, whereas lighter wigs reflect heat. You don't need to wear drastic bright-colored lace front wigs; instead, go for lace wigs in lighter shades. 
3 Mistakes That Cause Discomfort  When Prepping Hair For Lace Frontal Wigs 
The following three mistakes are often overlooked while installing lace front wigs. The way you style your hair before putting on your wig has a big impact on how it looks and feels.
Prepping your hair before installing a lace frontal wig is a crucial step that will help your hair stay flat and secured underneath the unit. Avoid these three mistakes to make wearing lace front wigs extra comfortable. 
Don't Braid Your Hair Too Tight 
Braiding is a popular protective styling technique for wig wearers. This is advantageous because it levels out the hair, preventing a bulky look beneath the wig, and ensures that your hair is well preserved.
Braiding your hair too tight pulls the roots and puts stress on your scalp. 
Incorrect Placement Of Clips
Clips are the greatest ways to keep your hair secured under the wig. However, incorrect placement of clips will dig into your scalp and cause discomfort. 
Women with short hair need to place clips properly because only so much lace front wigs can do to provide comfort. 
Don't Use The Wrong Wig Cap 
Your wig cap is another component that affects the level of comfort of your lace front wig. Your wig cap must fit properly. If your wig cap is overly tight, it will give you a headache and cause pressure marks on your head.
If your wig cap is too loose, you'll have to continually adjust it and stress about your natural hair showing through.
The Bottom line
Human hair lace front wigs have become a staple for women worldwide. Lace front hair wigs can feel hot and uncomfortable in summer for some women, but with the easy methods mentioned above, you will be able to enjoy summer and lace front wigs without any issue. 
Shop for the best lace front hair wigs from Diva Divine and beat the heat and discomfort in various lengths and textures.