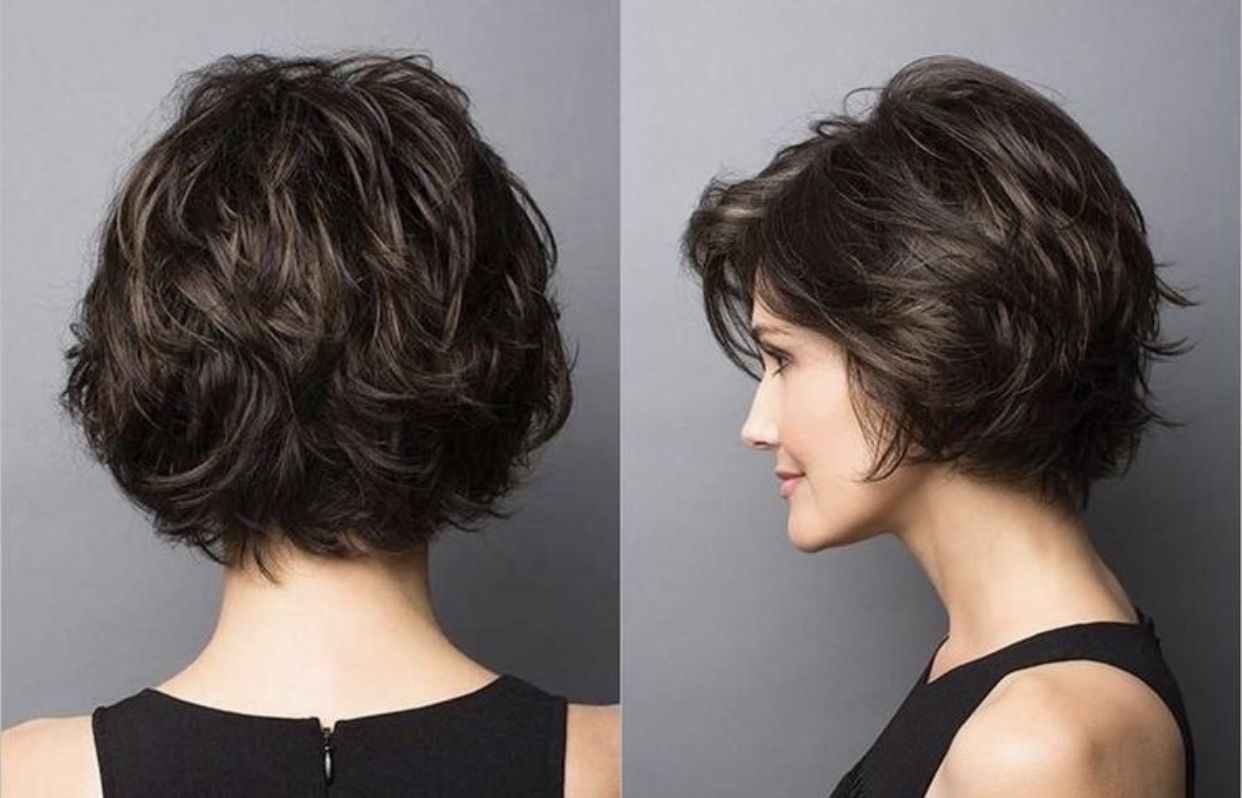 13 Feminine Short Haircuts For Wavy Hair: Trending Right Now
A short wavy hairstyle is a women's haircut with waves that run from the jaw to the collarbone. Wavy haircuts are amazing since they require very little upkeep. With endless ways to style long wavy hair, women often believe that short curly wavy hair limits you to only a few choices. Getting a big chop can be downright terrifying, but here's a hot take: short wavy hair is what can keep you up with the trends. While short wavy hair takes less time to style, it is generally more flattering. 
There is a wide array of wavy hairstyles to choose from. We've rounded up a list of some of our favorite short wavy hairstyles that are trending right now:
#1. Short Wavy Bob 
Accentuate your cute features like cheekbones and jawline
If you're looking for one of the coolest short haircuts, how does a short wavy bob sound? This look is ideal for flaunting cute haircuts and accentuating your special features like your cheekbones and collarbone. Get yourself a fresh look and exude confidence. The hairstyle is a mixture of short layered hair edging toward a short bob.
#2. Curtain Bangs 
Create curtain bangs for curtain-like effect
Curtain bangs and a short wavy bob look great together, and these bangs are about as low-maintenance as they get. Curtain bangs are one size fits all, whether you want to grow them long, pin them back, or cut them short. With a little swoop naturally forming on each side, the best part of curtain bangs is that they are super versatile and flattering on every face shape. 
#3. Voluminous Short Curly Waves 
Sport this look with a ton of volume at the top
A tousled jaw-length bob will complement your short, naturally wavy hair perfectly. To achieve this look, curl your waves and part them to the side or in the center to create a nice poofy look. Subtle highlights will add depth to your luscious curls and elegant swirls. Curls' inherent volume also helps in achieving a lot of volume without weighing down your head. 
#4. Pixie With Curly Bangs 
Curly pixie with long bob
For whatever reason, short haircuts like the pixie make women appear younger. The pixie cut with a lot of height on top and cropped sides is stylish and modern. Pair the pixie haircut with long, side-swept curly bangs for a more feminine look. If you want to switch up your image from old and dull to stylish and edgy, consider this refreshing haircut that adds a youthful effect to facial features. 
#5. Close Clippered Nape 
Make the look yours with your own details 
If you're a woman aligned to the latest trends, you've probably noticed the shaved nape hairstyles taking over the hair world. The Clippard nape is an unexpected detail, which adds a lot of cool effects to your look. With a shaved nape hidden beneath a layer of longer tresses, you can show them off or hide them behind your wavy hair, depending on how you prefer it. 
#6. Short Shag Haircut 
The look is suitable for women of all ages 
Shags are among the short hairstyles that are considered modern and stylish. And there isn't anything better in terms of trendy short hairstyles. Choppy ends, layering, and a lot of texture define a shag. As a result, it adds volume where needed and creates dimension if your hair looks flat - making it perfect for women with fine, straight hair. 
#7. Edgy Asymmetrical Bob
Flair up your beachy waves with this uneven look
Asymmetrical bobs are shorter and cut into uneven height, with one side longer than the other. The perk of wearing this look is that you can adjust the length and angle to suit your face. For added flair, beachy waves are all you'll need. 
#8. Chic Side Part Bob
Flaunt your favorite side by deep side parting your wavy hair
We're obsessed with this haircut this season, and it's taking over the reels. Choose this Bob cut for wavy hair for a classic look. The look is best suited for any occasion. To show off your alluring jewelry and make-up, tuck one side of your hair behind your ear. The look is one of the elegant yet simple hairstyles you can sport with short wavy hair. 
#9. Side Parted Messy Bob 
Keep it messy and sassy
Since curly wavy hair doesn't always have a neat look, you can choose to work with the natural spontaneity of your hair. A great way out is to part your hair deeply to the side and let your hair fall naturally. The rule for creating a messy look is that there are no rules, and you can use your imagination to experiment with different hairstyles. 
#10. Curly Brunette With Bangs 
Pair your short wavy hair with a fringe
Pair your short wavy hair with a fringe and go all out with soft and face-framing pieces. Give your lovely tresses a chance to shine even when cut short. Scrunch your tresses with the help of your fingers for a more tousled look, and boost your curls with a little hair texturizer and mousse. Make sure you don't overload your hair with products because product buildups can damage your hair. 
#11. Medium Wavy Bob 
Consider this inspiring wavy look for your next haircut 
Such an inspiring shoulder-length wavy bob is a must-try. If your natural hair is wavy, use a wide-toothed comb to gently brush your hair to keep frizzy hair at bay. This is a fuss-free look that doesn't require you to master the technique to achieve perfection. Finish up the look with hairspray and run your fingers down the hair for the ultimate shaggy look.
#12. Money Piece Highlights
Show off an expansive and glamorous look
Money piece highlights are one of the most flattering hair color trends of all time. These highlights are achieved by coloring the front strands of your hair with a brighter shade. The striking color on the front helps in framing your face and uplift your complexion. Consider this look if you want to make major transformations in the way you look. 
#13. Short Wavy Blonde Hair 
Amp up your look with different hair color ideas
Whatever color you choose for your hair, a short wavy hair cut will always look great on it. However, blonde shades have more fun and a flattering essence to them. Use a sulfate-free shampoo and conditioner to keep your color vibrant and steer clear brassy tones. 
There you have it! Short haircuts are amazing because of their functionality. Short hair means less upkeep, and less maintenance means a simpler lifestyle. We understand that cutting your hair short is easier said than done and requires you to take a lot of heart. And if you want your long hair back, there's always the option of hair extensions.