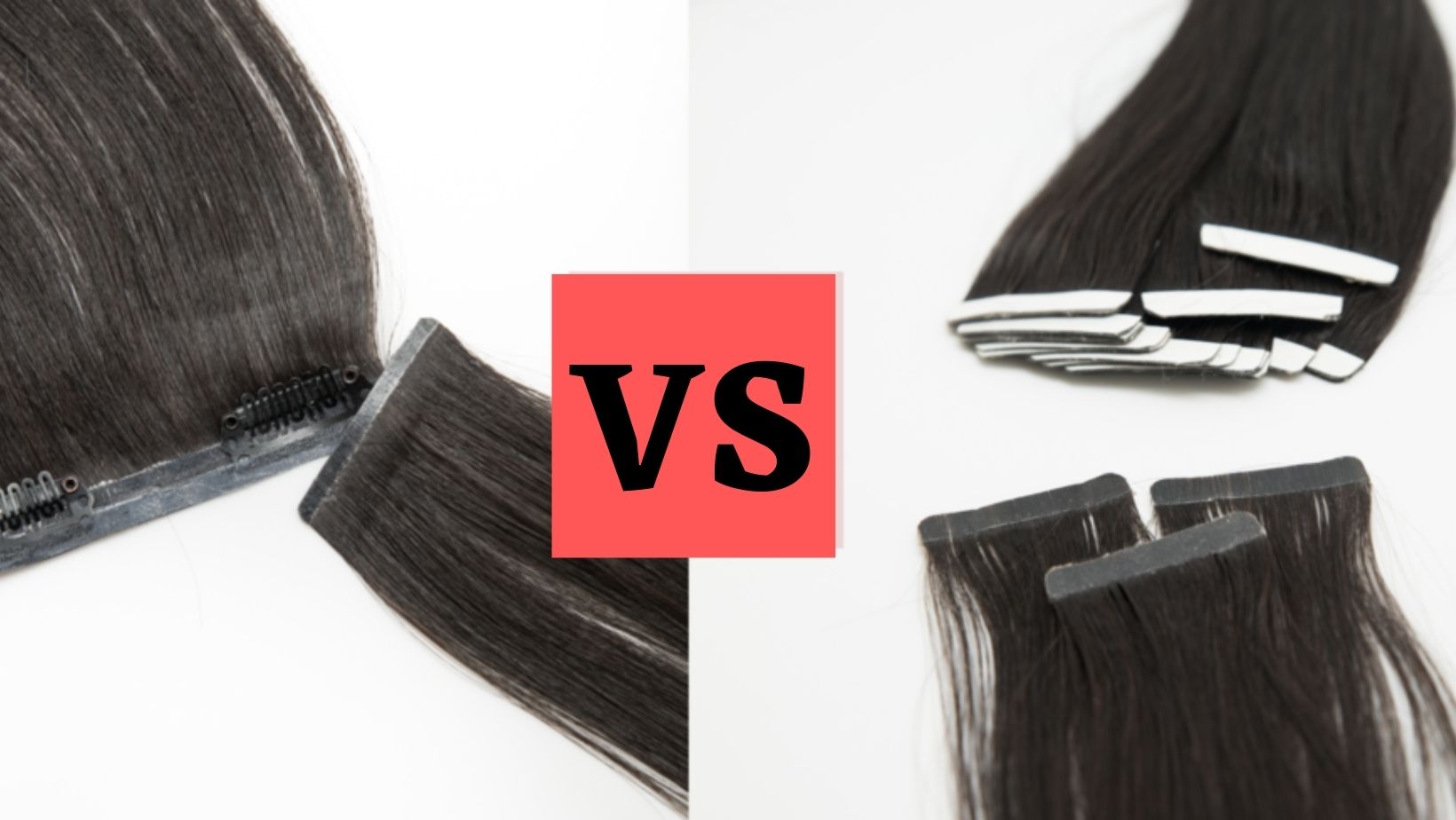 CLIP-IN VS TAPE-IN EXTENSIONS: WHAT'S BEST FOR YOU?
Unhappy with the thickness or length of your natural hair? Hair Extensions are what you need! They make for an ideal technique to upgrade your Hairstyle and ameliorate your look without causing damage to your natural hair. Whether you want to add length, volume, color, or style to your natural hair, Hair Extensions will make your hair transition journey seamless and quick. Clip-in Hair extensions and Tape in Hair Extensions are perhaps the most sought-after Hair Extensions that we see today. The two may sound similar, but their differences aren't easy to discern at one go. Read on to know more about the differences and decide which works best for you!
About Clip-Ins And Tape-Ins Hair Extensions


 About Clip-Ins And Tape-Ins
If you are seeking an easy, affordable, and least permanent way to add length and volume to your hair, Clip-in Hair Extensions are meant exclusively for you. It's easy and quick application process makes it stand out from all other kinds of Extensions. You can easily apply these Extensions using snap-on clips that are attached to the base of the weft. All you have to do is attach these Clips to your hair one by one. Generally, you don't need a professional to install them.
Diva Divine Most Selling Products
[product]10-piece-clip-in-set,6-clip-partial-wig-1b,4-clip-v-shape-clip-extension-straight[/product]
Moreover, they don't take much time to attach. It takes as little as 10-15 mins to apply them at home. Usually, they last from three to eight months, depending on your hair care routine and how well you look after them.
Tape-in Hair Extensions are invisible, thin, and flexible in your hair that you don't feel when you brush over them or wash them. They are reusable for up to a year and are good for 3-4 applications. As the name suggests, these Extensions come attached with strips of double-sided tape, which is later attached to the weft base. The adhesive used in these Extensions is really strong, which holds your hair perfectly. However, the application process takes a lot of time and can't be done without a hairdresser. If you are seeking a damage free, more permanent, and comfortable option, Tape-In Extensions are the best. 
Treatment 


Treatment 
Clip-in Hair Extensions require less upkeep and don't require any special hair care treatment. You can continue using the same hair care products that you normally use on your hair. However, it's important not to wash your Extensions now and then. Wash them only when you have already worn them more than ten times. 
In the case of Tape-In Extensions, you need to be very careful in handling them. It is not recommended to wash Tape-Ins with regular shampoo as they may become loose or slip. Therefore stylists always recommend using a few special hair products on them. When it comes to losing hair from wearing Extensions, Tape-In Extensions are the safest Extensions out there. They are least damaging, lightweight, and don't pull your natural hair as other Extensions do. As long as you are wearing good quality Tape-In Extensions, the maintenance is hassle-free. You tape it and forget until it's time to move them up. 
Synthetic VS Human Hair


Synthetic VS Human Hair
When you purchase Hair Extensions, make sure you read the fine print: they come in different kinds of hair. You can not style or color every extension as it depends largely on the kind of hair used in making them. If you can't take the hassle of styling your hair regularly, opt for synthetic clip-ins as they hold your style even after washing. Clip-ins also come in Remy human hair, which is top quality human hair that looks and feels natural. Tape-In Hair Extensions are mostly made of Remy human hair that is reusable and least damaging. Undeniably, Tape-In Extensions are the number one choice of celebrities and fashion icons worldwide. 
Pros and Cons Tape-in Extensions


Pros and Cons
Pros of Tape-in Extensions
Tape-ins don't require heat or other tools for installation

Application takes less time than sew-ins

Reusable Extensions and installation lasts upto 3 weeks

Made with Remy human hair that can be colored, bleached and permed

High quality Extensions last upto 3 yrs with proper care
Cons Of Tape-in Extensions
May cause damage to your hair

Immediate wash is not advised as the adhesive takes 2-3 days time to set to your hair

No DIY and need stylists in both installation and removal

Semi permanent and costly alternative

Not ideal for thin hair

Can't stand regular oils and oil based products

Excessive sweating may cause the to slip
Pros and Cons 
Clip-in Extensions
Pros of Clip-in Extensions
Clip-ins are temporary and removable

Human hair Clip-ins can be colored and bleached 

Cost efficient way of adding volume and length

Installation doesn't require salon and can be easily done at home

Offer greater versatility and comfort

Adjustable and don't damage your hair
Cons Of Clip-In Extensions
Irritable for a sensitive scalp

DIY can be time consuming

Not recommended to be worn while asleep

If not placed correctly, they may slip off the weft

Not suitable to be worn for longer periods of time

People with thin hair should avoid wearing clip-ins as wefts may create tension on the scalp

Fall out if not installed properly
DIY VS. SALON


DIY VS. SALON
Clip-ins win the battle when you talk about ease of use. You don't need to make salon visits to install Clip-Ins. Tape-ins on the other hand can only be installed by a professional and require  maintenance every 6-8 weeks. To become a Clip-in installation expert, it only takes to watch a useful Youtube Tutorial, read an informative article, and self practise at home a few times. Choice is entirely up to you. Identify your hair goals, consider your budget, and go for the option that suits you best.
Budget Friendly


Budget Friendly
Your hair needs special care and attention so, pamper them with the best Extensions that blend seamlessly with your hair. Buying anything temporary and of low quality will obviously be more cost-effective. 
Clip-In Hair Extensions allow you to do the DIY installation and save money. You can use that money to buy the best quality human hair Clip-ins and do justice with your hair makeover.
Tape-In Extensions are more expensive than clip-ins. They usually are made of top-quality Remy hair that needs a hairstylist to install them properly. But, it's worth investing in Tape-In Extensions as they won't shed, mat, or tangle. You can customize them with any hairstyle you wish and color as well. They are reusable and can be worn for a longer period.
The Bottom Line
Clip-ins and Tape-Ins are difficult to compare against each other as they both have their own set of advantages and disadvantages. If you want a quick hair transformation that you can throw on a date night or keep as a temporary addition to your look, go for Clip-in Hair Extensions. Make sure to remove them before you go to sleep. These semi permanent hair additions last up to a year, depending on their usage and upkeep.
Tape-In Extensions lay flat on your head, making them look virtually undetectable. They can be washed and styled like natural hair. Now that you have gone through the pros and cons of both types, you will be able to decide which Hair Extension Technique best matches your lifestyle and needs.