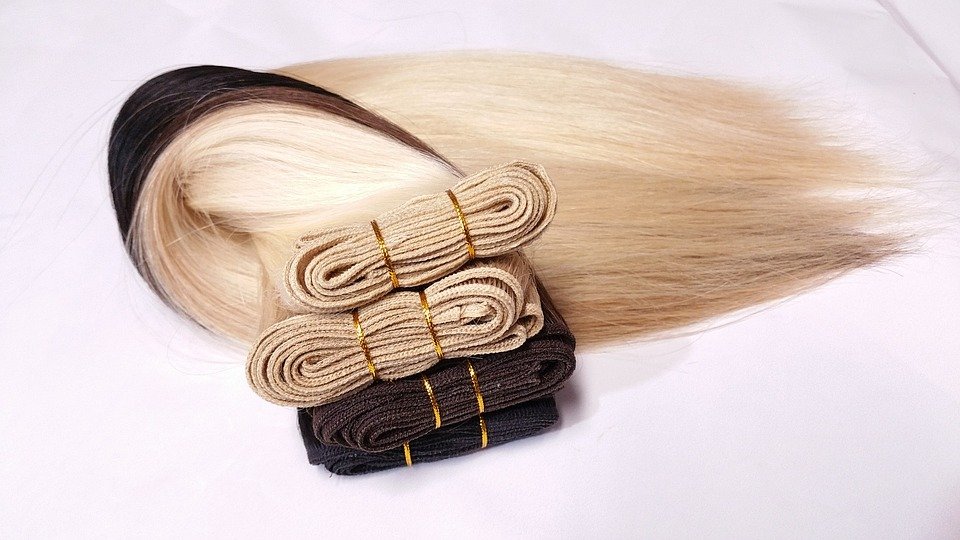 What are Weave Hair Extensions? Pros and Cons
For all those women who keep up with the ever-changing trends, you must have heard about weave hair extensions a lot. Weave hair, like hair extensions, is designed to help you in achieving your desired style. Hair weaves are sewed into braids to create a hairpiece, and the best part is how seamlessly it blends with our natural hair. Weave hair extensions allow you to match your natural hair with a variety of colors, textures, and shades, making them extremely versatile: 
How To Install Weave Hair Extensions?
Choose a weave hair that matches your hair texture and color
There are several techniques to install and style a hair weave; one method that is predominantly used is braiding your hair into cornrows and sewing in the weave hair. Let's go over how to install sew-in weave extensions yourself in the comfort of your own home:
Prep Your Hair Before Styling 
Prepare your hair to achieve smooth and manageable hair
It all comes down to preparation before you begin installing sew-in hair extensions
Shampoo your hair to remove product buildup and dirt, and then condition it to make it smooth and manageable.

If you have enough time, let your hair air dry; otherwise, blow-dry it at a cool temperature.

Use a hair moisturizer to keep your natural hair hydrated.
Check out how to flawlessly install sew-in weave hair extensions at home:

Check out how to flawlessly install sew-in weave hair extensions at home
Step #1
Remove a section of hair in the center for leave-out. You can also leave your edges alone for a more natural look. To keep your sew-in weaves from looking bulky, make two anchor braids around your leave-out. We recommend braiding your hair into cornrows for a flat surface. Use a C-needle and thread to secure the hanging braids. 
Step #2
Massage scalp with nourishing hair oil. It hydrates and protects your scalp from drying out. However, don't use too much oil on your scalp. Excessive use causes more harm than good. Indique Essentials Argan Oil can help to nourish your scalp and hair. Our ultimate goal is to ensure the long-term health of your hair, and our argan oil does just that.
Step #3
Use a weaving net to cover your hair. If you have a lot of gaps between your braids, this is a great way to fill them. A weaving net also gives you more room to sew the weave hair extensions. You don't need to use a weaving net if you have thick strands and your braids are small with little to no gaps in between. Women with fine, straight hair will benefit the most from the weaving net.
Step #4
Start sewing the extension at the nape of your neck, and work your way up onto each cornrow. Begin from the edge of the cornrow and try keeping it as flat as possible. Remember that our main objective is to hide the fact that we are wearing weave hair. When you reach the opposite end of the cornrow, repeat the process until the entire head is covered. Use a clip to keep the ends of each weft intact, so they don't get in the way of your sew-in installation. 
Step #5
Once you've sewed the end of the cornrow to the track, cut it. This will assist you in achieving an exact measurement. Straighten your leave-out and apply edge control cream after you've finished sewing the weave hair extensions. You can use heat styling tools to style your sew-in hair however you want. Ensure that you set the tools at a cool temperature or apply a heat protectant to shield your hair from heat damage. Finally, style the weave to define it for yourself. 
So there you have it. Of course, it is easier said than done to install weave hair extensions. However, with some extra effort, you can easily work on it without having to take a trip to the salon. 
Before you choose to weave hair extensions, you should be aware of their benefits and drawbacks, as with any other hair extension. Continue reading to learn about the pros and cons of weave hair extensions: 
Advantages of Weave Hair Extensions 
Durable and versatile
They Are Robust And Harmless 
Weave hair extensions are one of the most risk-free methods of hair extension. The entire pattern only affects the hair to which it is attached. They are durable and super flexible, and you can wear sew-in hair extensions while sleeping or working out.
Weave Hair Are Affordable 
With the growing hair industry and the prevalence of hair extensions, weave hair is easy to access and reasonably affordable. 
Durable And Requires Little Upkeep
Sew in hair extensions are highly durable, and surprisingly they are easy to maintain. They have a lifespan of up to six months and can be extended further by putting in extra effort to care for them. In addition, unlike other hair extensions, weave hair extensions do not require glue or heat to install. 
Super Versatile  
Weave hair extensions are incredibly versatile, allowing you to experiment with various new hairstyles such as black wavy hair, layers to increase hair volume, ponytails, you name it. Any woman, regardless of hair type, can effortlessly pull off a flawless sew-in blend.
A Protective Style 
While allowing complete styling freedom, sew-ins also allow your hair to take a break from everyday damage, such as heat styling tools and frequent brushing, which helps your hair to develop properly.
Disadvantages Of Weave Hair Extensions 
Weave hair are time consuming
Installing Weave Hair Takes Time 
Sew-in hair extensions are time-consuming to apply. You must set aside time because installing weave hair takes several hours.
Can Weigh You Down 
If you've thin hair, you might have to be careful because a heavy weft can pull harshly on natural hair and weigh your head down. If your hair is silky straight, braiding it in for the sew-in may not last very long. 
Discomfort And Headache 
If the braid underneath the weave hair is too tight, it can cause scalp pain and headaches, which isn't good for your hair health. 
Infections Pose A High Risk
If the weave hair is not washed frequently, bacteria can accumulate and pose a high risk of infection. 
Conclusion
By now, you know the benefits and drawbacks of wearing weave hair extensions,we hope that you will make an informed decision when buying weave extensions. When it comes to weave hair, it gives you endless styling options. All you need to do is not be afraid to experiment with weave hair extensions, broaden your imagination, and try new hairstyles.