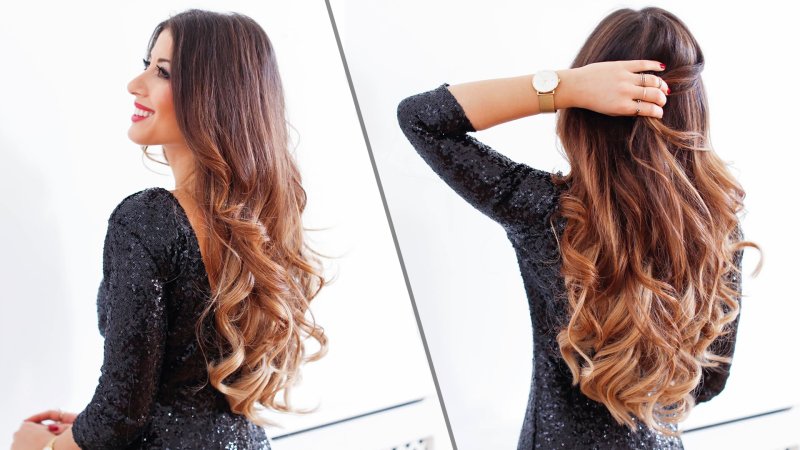 5 Best Hair Extensions For Every Hairstyle, Type, And Budget
When it comes to extensions, the choices are endless. Temporary extensions, such as clip-ins, halo, and ponytail extensions, ensure that your desired hairstyles can become a reality without visiting a salon. In contrast, semi-permanent extensions like tape-ins and microlink extensions provide length and volume for an extended period.
There are so many options today available that it might get overwhelming. , Basically your budget, hair type, and hair objectives are the three most crucial factors to consider before jumping the gun.
So, we will quickly give you a rundown of the 5 best hair extensions that cater to distinct styles, hair types, and budgets because, ultimately, you want the hair extensions to blend seamlessly with your hair and budget to achieve the salon look!
1. Ponytail Hair Extensions
Thick and luscious ponytail style
Whether you want a unique or voluminous ponytail or both, ponytail hair extensions are your best bet! Thanks to their beauty and versatility, they go with any wardrobe, whether you're dolled up for a professional meeting or a casual day out.
Style: Ponytail hair extensions are available in numerous textures, i.e., curly, wavy, straight, and in multiple lengths and colors. You have the option to heat-style or dye them as long as they're made of virgin human hair.
Hair Type: If you have fragile strands, you should avoid wearing high and tight ponytail styles. Aside from that, every hair type can flaunt ponytail hair extensions!
2. Clip-In Hair Extensions
Chic and traditional appeal
Human hair clip-in extensions have become a force to reckon with because they easily blend with your hair. They are frequently worn by actors, models, and everyone else! They're the quickest and safest approach to achieving a head full of long and beautiful hair.
Style: Like ponytail extensions, clip-ins come in various lengths, colors, and textures, making it easier to choose one that resembles your natural hair.

Hair Type: Clip-in hair extensions are suitable if you have medium to thick hair. You can wear a full set without causing any damage to your natural hair. However, if you have thin hair, it's not advised to wear an entire set of clip-ins to prevent tension to the roots.
Budget: The price of clip-ins typically starts from INR 6000 and can go up to INR 20000. The price of human hair clip-in hair extensions varies depending on the number of pieces per set. Clip-ins are available in 10-piece or 5-piece per set, so it's ideal first to understand which type you need and budget accordingly.
3. Halo Hair Extensions
Flawless with halo extensions
Halo extensions are carefully placed on your head, and the undetectable wire holds them in place. They aren't clipped into your hair and don't pull on your follicles as clip-ins do. As a result, halo extensions are completely safe for your hair.
They're essentially a one-step technique for getting longer, fuller hair in minutes.
Style: Halo hair extensions are primarily available in 2 textures; straight and wavy, that can be heat-styled with a curler or a straightener.
Hair Type: Halo extensions are among the best extensions suitable for every hair type, including thin hair. Halo extensions are a damage-free solution, whether you want to add length to your thick hair or volume to your thin hair.
Budget: Halo extensions price start from INR 11,000 and can go upto INR 18,000 based on the length.
4. Tape-In Hair Extensions
Simply gorgeous
Since they are lightweight and almost invisible, tape-in hair extensions are among the most popular hair extensions on the market. Unlike the 3 extensions above, tape-ins are semi-permanent and can be worn for 8 weeks!
Style: Tape-ins are typically available in straight textures that are slightly tapered at the ends or wavy. They are available in stunning colors and lengths.
Hair Type: Like halo extensions, tape-ins are also ideal for all hair types.
Budget: They can cost anywhere from INR 13,000 to INR 15,000.
5. Microlink Hair Extensions
Microlink Hair Extensions
Microlink hair extensions are the tiniest and most discreet non-glue hair extension methods available. Using tiny metal tubes, the method involves joining strands of natural hair with the extensions. Microlinks can last between 2 to 3 months with regular salon visits.
Style: Microlink extensions come in various lengths, colors, and textures.
Hair Type: If you have medium or thick hair strands, you can get microlink extensions installed. For thin hair, it's best to consult with a stylist first, and they will be able to assess your hair to see if it's fit for microlink extensions.
Budget: The price of microlink extensions alone can cost you up to INR 6000 to INR 10,000, and there's also the installation cost which will heavily depend on your location.
Conclusion
These are the 5 best hair extensions that can temporarily or permanently elevate your hair game. Browse through the Diva Divine's vast collection of 100% human hair extensions and look fresh out of the hair salon every time!