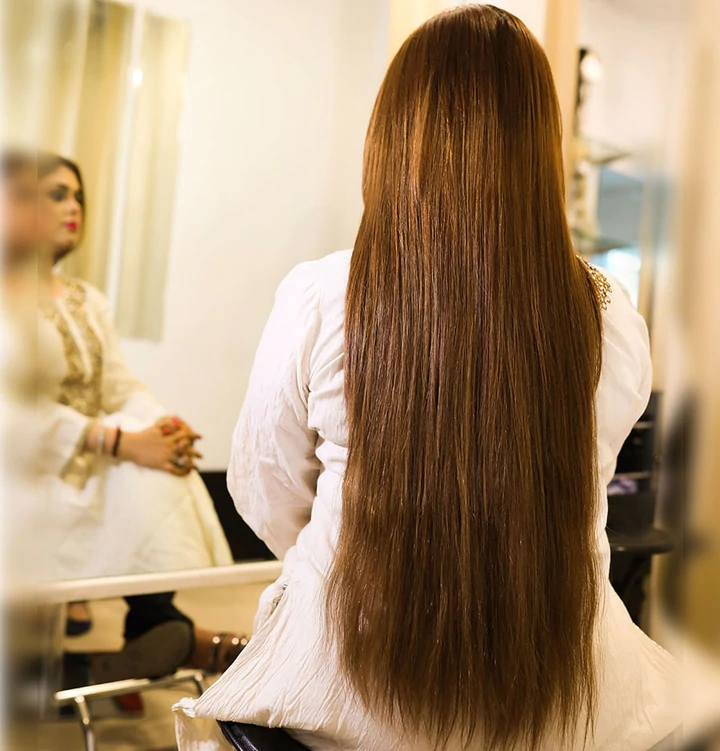 Your Guide To Getting Gorgeous Hair Extensions
Fact: your favorite celebrity's ultra-shiny and stunning mane is crafted with hair extensions, so, naturally, you might be intrigued. Well, what's not to like about lush, thick tresses that quickly transform your appearance and elevate your spirits?
The universe of extensions can be perplexing for some, and it can be difficult to figure out what technique, kind of hair, and the amount you require to pull off a look. That being said, we're here to help you get beautiful hair extensions by guiding you through the various types available.
5 Things To Consider When Buying Hair Extensions  
You must decide between human and synthetic hair before purchasing hair extensions. We definitely recommend human hair extensions over synthetic ones because of their versatility.


Choose a color that closely resembles your natural hair, because a seamless look is important. The wrong color will leave you with an uneven result.


Determine the length of your hair extensions. For an everyday look, it's best to go with 18 or 20 inches hair extensions.


You must keep your lifestyle in mind when buying hair extensions. You have to consider if you're up for the maintenance different extensions require.


 The cost of hair extensions and maintenance fee. Permanent extensions also require routine salon visits.
Various Types of Hair Extensions
Hair extensions are primarily divided into 2 types, temporary and permanent extensions. Clip-in and ponytail hair extensions fall under temporary and tape-in, machine-wefted hair, and keratin extensions under permanent.
Continue reading to understand better what each extension means so you can acquire beautiful hair extensions as per your needs immediately after reading this blog!
Temporary Hair Extensions
#1 Clip-In Hair Extensions
10-Piece Clip-In Set
Clip-in hair extensions are the best option if you want longer, voluminous hair in minutes. They're made up of strands of tapered sections of human hair that are bonded to the base of durable materials with pressure-sensitive clips. These temporary hair extensions are one of the most popular options because you can install them on and take them off whenever you want without visiting a salon.
Plus, clip-in human hair extensions are incredibly low maintenance and need to be washed after 20 wears or when they become unruly due to product accumulation. With adequate care, you can expect 100% human hair clip-in extensions to last over a year! Clip-in extensions are for you if you want to add length and volume where needed or flaunt exciting styles without any commitment.
#2 Ponytail Hair Extensions
100% human hair ponytail extension
Ponytail hair extensions make your ponytail appear fuller and longer. The outcome is a ponytail hairstyle that is lively, thick, and luscious, that looks and feels terrific.
Ponytail hair extensions are typically 20 inches long and are installed with a built-in clip and secured with a velcro strap. Like clip-ins, ponytail extensions can be installed and removed anytime and are durable. If you want to flaunt volume-packed bun and ponytail styles whenever you want, then ponytail hair extensions are ideal for you!
Permanent Hair Extensions
#1 Tape-In Hair Extensions
Permanent tape-ins
Tape-in hair extensions are a popular method since they are lightweight and nearly undetectable because they rest flat on the head. The 2 greatest benefits of tape-ins are that they are the least damaging permanent extensions available and ideal for all hair types, from extremely fine to thick.
We recommend leaving the installation to the professionals because it takes about an hour to install, and it can become tricky with the adhesive and all. Tape-ins last up to 8 weeks, but you need to get them readjusted as your hair grows. Tape-in hair extensions are ideal for you if you have thin hair and want to wear down-dos in stunning lengths and colors.
#2 Fusion Hair Extensions
Fusion hair extensions, often known as pre-bonded extensions, are among the most popular permanent hair extensions among women and celebrities alike. They're one of the oldest methods for adding length and volume and one of the most developed and advanced.
In contrast to tape-ins, fusion hair extensions are available in small portions. Fusion extensions use hair strands to help achieve a seamless and natural result after installation.
Installation and removal of fusion hair extensions must be done by a skilled professional. Fusion extensions are ideal for you if you want to flaunt long and thick styles for an extended duration.
There are 2 types of fusion extensions; hot fusion and cold fusion method.
i) Hot Fusion Hair Extensions
Hot fusion is the strand method in which a heating device is linked to the keratin-based tips. Keratin hair extensions and tip hair extensions are other names for hot fusion extensions. Hot fusion extension installation takes about 2 hours and lasts upto 4 months.
A heated keratin bond is used to apply them to your natural hair in small portions. This approach is much gentler on hair than normal glue because your hair is already made up of 90% keratin.
ii) Cold Fusion Hair Extensions
Micro link, or I-tip extensions, is another name for cold fusion. It is also a strand method in which bits of hair are woven through a micro link tube. They are a gentle alternative to keratin or hot fusion as the installation does not require applying heat. Depending on how you take care of your cold fusion extensions and how frequently they are readjusted, they last between 2-4 months.
Conclusion
These are 4 hair categories of hair extensions categories to temporarily or permanently add thickness and length. Choose the desired type of extensions based on your lifestyle, and get ready to flaunt that celebrity look!
Browse through our collection of 100% human hair extensions to get your hands on them!