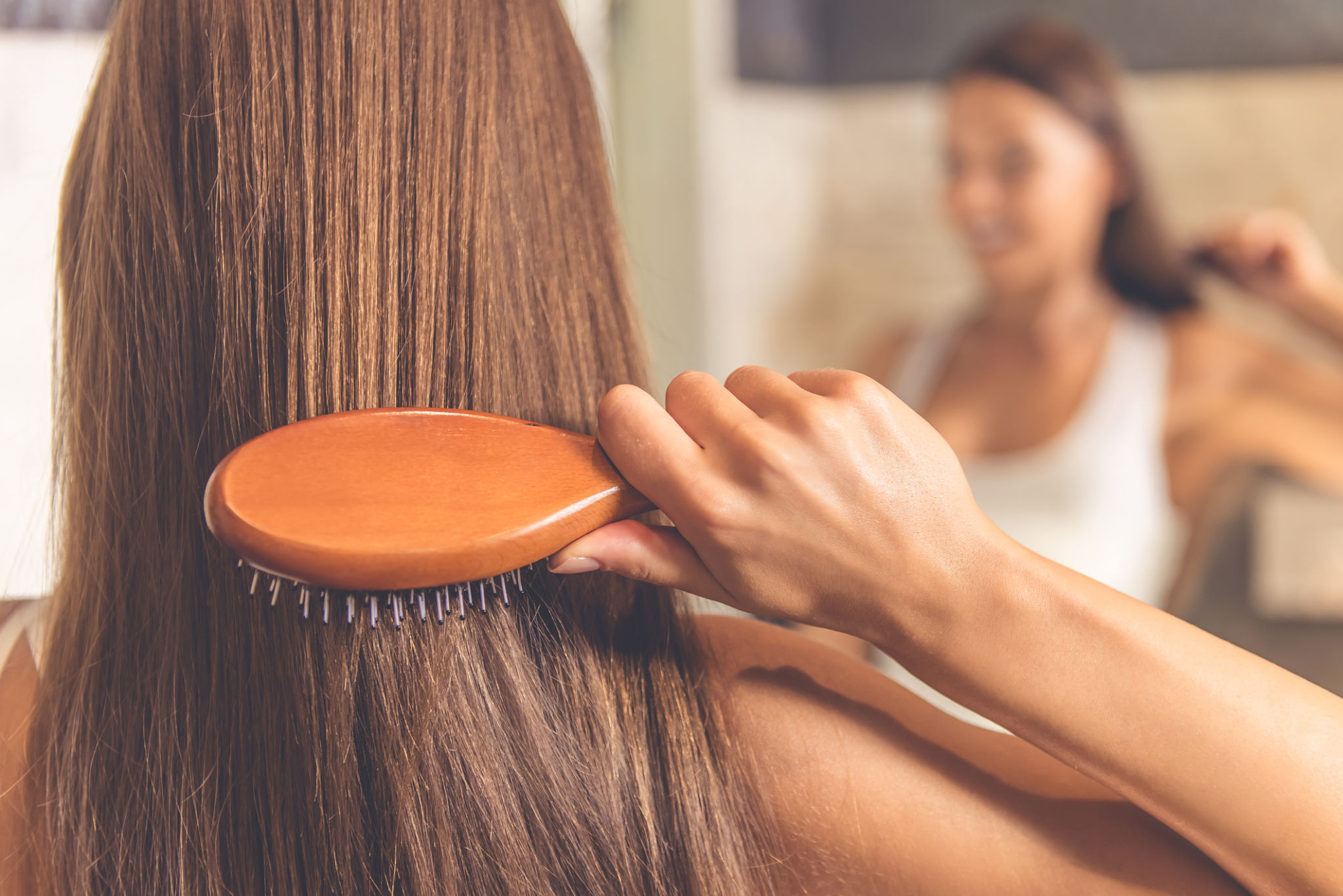 Guide to Keeping your Hair Extensions in Perfect Condition
Hair Extensions are a great way to instantly transform and elevate your style and provide a seamless solution to hair problems. However, keeping them looking flawless requires a strict after care routine which will help lift the longevity of your extensions. If you aren't willing to make the commitment to their care, you may end up with dull strands, ratty hair, or even worse, doing irreversible damage to your natural hair. With regular care and maintenance, you can ensure your Hair Extensions stay impeccable and healthy. There's no better way to preserve your extensions than to take care of them as you would do for your own hair. Even though extension hair doesn't grow from your scalp, you need to treat it equally as if it does.
Every extension needs to be treated with utmost care. Whether you opt for Clip-in, Tape-in, or Halo, they all ask for your time and care. Clip-ins are the ideal choice for adding length and volume to your hair. They are easy to apply. You can attach them using pressure sensitive clips and get fuller hair in a matter of minutes. A quality set of clip in extensions last longer and require less maintenance. Best of all, these extensions are quick and easy to apply. They let you change your look at a moment's notice so that you just clip-in and go.
Another popular option for your hair are tape ins. Tape in Hair extensions look natural and undetectable. As the name suggests, they are placed to the hair roots using medical grade tape and sandwiched between natural hair. These extensions give a more natural and clean look. They lie completely flush against your head and don't damage your hair unlike other extensions that stick out.
Other options include Halo Hair Extensions. These extensions are particularly meant for those who have thin to medium hair type. They use thin and invisible wire which is positioned around the crown area after making hair sections. They are perfect for everyday wear. If you are seeing longer and fuller hair alternatives, then Halo hair extensions are for you. No matter what kind you decide to wear, they all need some sort of care.
Read on to learn all about hair extension care tips to keep them looking flawless at all times.
Master Brushing Skills
Hair Extension Brush For No More Tangling and Breakage
Invest in a quality brush and ensure to brush your extensions gently; otherwise, they will start to get loose. Gentle brushing will put less strain on your extensions, hair, and scalp. Here's a simple technique you need to follow.
Stack the wefts on top of one another and start brushing carefully from the bottom of the hair before working your way upwards. If you find any pesky knot, take out that weft and brush it carefully. Avoid touching wet extensions as they are more prone to breakage. Use a wide-tooth comb or loop brush for brushing as its looped bristles seamlessly glide through the hair while removing all tangles. You won't end up pulling, ripping, or damaging your wefts that may happen with a regular hairbrush.
Avoid Using Too Many Products

A Big No For Sulfate And Alcohol Based Products
If you have straight or silky and Non-Synthetic Extensions, limit your use to a heat protectant, shine spray, or dry shampoo. You can use a defrizzer along with serum to keep extensions sleek. Note- Use the paddle brush to comb your hair, and ensure to use dry shampoo carefully.
If you have wavy extensions, use wave spray or a curling mousse. It only requires a light application and a bit of manipulation to get carefree mermaid-like waves.
If you wear curly or kinky hair, use a curl mousse or a curl-defining gel to impart more luster and definition to your hair.
If you wear tape-in extensions or any adhesive like bonding or wig glue, avoid using products that contain alcohol as it may cause the bond not to stick. 
Minimize Heat Dose
Limit Heat Styling Tools To Avoid Breakage, Shrinkage, And Damage
Hair extensions are no different from your natural hair. They get damaged with the overuse of heat. No matter what amount of conditioning treatments you apply, once they become brittle and get spoiled, you may have no other option but to replace them with the new. However, if you want to prolong their stay and want them to look seamless, here are some tips that you can follow to protect them from heat.
Keep heat protectant handy
It's recommended to always apply a heat protectant before you use heat styling tools. Some heat protectant products are used on wet hair, while others before you begin styling.
Keep the temperature low.
To protect extensions from getting damaged, you should use heated tools at low temperatures. The idea is to guard hair extensions from overuse of heat.
Take a break from hair straighteners and curlers.
The more you use straighteners or curling rods, the lesser the lifespan of your extensions.   
Don't Sleep With Wet Extensions

Wet or damp hair promotes matting and tangling. Ensure to dry your hair completely before getting into bed. It is recommended to tie your extensions in a loose pony tail rather than leaving them unsecured. If left unsecured, your hair extensions will get tangled and matted. It's important to brush them thoroughly and secure them with extension bobbles.
Wash Extensions Carefully
Wash Extensions Gently And Not Vigorously
Washing your extensions is a good practice as it's vital to keep them hydrated at all times. Just like your own hair, hair extensions don't get the essential nutrients and oils as your own hair does. You can use sulfate-free shampoos and conditioners to moisturize and nourish your extensions. Alcohol and sulfate based products shred natural oils from your hair and make them dry and more prone to matting.
It's recommended to apply an alcohol-free conditioner on them. Handle your extensions with care, and don't rub them vigorously. Give them a cold water rinse at the end to absorb moisture. Once you are finished rinsing, squeeze excess water (if any) from the extensions, and don't rub them dry using a towel.
Sleep On Satin Pillowcase
Use Satin Pillowcase For Smooth And Frizz Free Hair
Before a good night's rest, wrap your Hair Extensions in a silk turban or sleep on a silk pillowcase to avoid dryness. With the help of a silk scarf, secure your head by tying it around your head's circumference and making a knot on your forehead area. It will keep your hair moving in the same direction and won't allow tangling.          
Another popular way to keep your extensions safe, and tangle-free overnight is to tie your hair extensions loosely at the back before going to bed. If you are finding a quick and easy way to keep your extensions seamless, tie your hair in a low ponytail using a spiral hair brand. Alternatively, it may seem a little time-consuming and challenging, but making a loose French braid is another workable way to prevent matting, and even better, you'll find beautiful beach waves.
Pro Tip: Avoid tying hair in a topknot style or making a low bun otherwise, you'll end up with matted hair.
Finally!
Go forth and enjoy long, fuller, and healthier-looking hair by adding the above tips to your hair extension care routine. With regular maintenance and proper care, your extensions will last for a long time, just as you'd hoped. Always ask your hairstylist to provide you with aftercare tips and advice to set you up for a smooth journey with your new long locks.