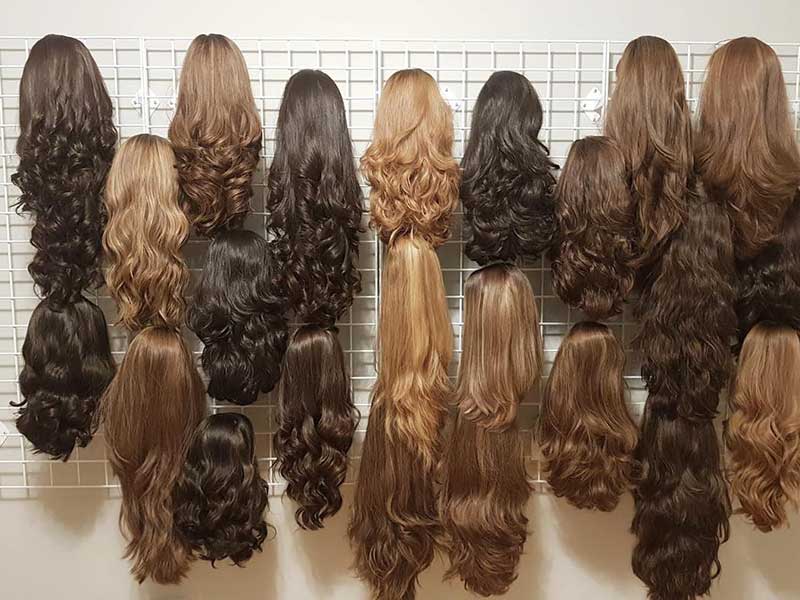 4 Type of Hair Wigs You Should Buy
Hair wigs are the hottest addition to  the hair world, and if you're a woman who is abreast with the latest trends, you're well aware of the wonders that wigs do. If you're troubled by  hair thinning and balding, wigs are the ultimate answer to your prayers. There are a wide variety of wig types on the market today, and deciding which one is the perfect fit for you can be a little daunting. A flawless, chic hairstyle represents the pinnacle of glitz and glamour, and we can't afford to lose it.
What Are The Types Of Wigs? 
There are various types of wigs to choose from, each designed to help you achieve your hair goals. But first off, decide whether you want a ready-made or tailor-made wig. For customizable options, you can make slight adjustments to make it fit you the best. There are four main types of wigs: Synthetic hair, human hair wigs, lace front wigs, and human hair machine wigs. Let's take a deeper look at these wig types, so you know exactly what you're looking for. 
#1. Synthetic Hair Wigs 
Retain your style for a good amount of time 
If you're looking for convenience, synthetic hair wigs are the way to go. Synthetic wigs are the best way to ensure that your hairstyle never frizzes or falls, making it weather resistant. Synthetic wigs allow you to have any style you want at a low cost  with minimal effort. 
What Is Synthetic Hair?
Synthetic hair wigs are made from man-made fibers made of polymers and designed to look and feel as real as human hair. Thanks to the advancement of hair wigs, Synthetic hair has made significant progress in recent years. If you're on the go, consider the best heat-friendly and long-lasting synthetic hair extensions. 
However, the best part of wearing synthetic hair is  yet to be revealed. Synthetic hair holds its style much longer than human hair, making it the best choice for low-maintenance hair. But, it is worth noting that because synthetic hair is so effective at retaining shape, re-styling synthetic hair can be difficult. Avoid using heat styling tools to prevent thermal damage to synthetic hair. Even though there are many more heat-friendly synthetic wigs available, changing up the look is still difficult. 
Related Article : The Synthetic Hair Nightmare! What You Need To Know
#2. Human Hair Wigs 
Human hair wig for a more realistic look
Human hair wigs have a soft shine and movement that synthetic hair cannot match. When it comes to human hair, Remy hair is unrivaled because it is unprocessed and still has the cuticle layer in place. This shows how healthy the hair is and that it has not been processed.
What Are Human Hair Wigs?
Human hair wigs are pretty much self explanatory. They are made of virgin human hair so they have a natural look and feel. These wigs don't come cheap, and the hair is sourced from all over the world. So, if you're thinking of buying them, it's never a bad idea to have a better understanding of where they came from. The best part of virgin human hair is that it is not colored or treated, and it is likely to be in better condition than your natural hair.  
Unlike synthetic hair wigs, you can restyle human hair wigs, and it doesn't restrict you from applying  heat or color. Sounds like the voluminous hair of your dreams? 
Whether you want beachy waves, sleek straight hair, or kinky coils, human hair wigs offer a plethora of styling options. However, if you don't have a proper hair care regimen, it can be difficult to keep them flawless.  
#3. Lace Front Wigs
Slight adjustable lace front wigs 
Lace front wigs are available in both human and synthetic hair. If you want to achieve a flawless appearance with no trace of wig use, look non further than the lace frontal wig. 
What Are Lace Front Wigs? 
Lace front wigs have lace at the front section of the unit - appearing as if you have a natural hairline in front. The remaining cap is made of a slightly thicker material that keeps the wig in place and has clips sewn into it. Human hair lace front wigs are long-lasting and provide freestyle parting with a wide array of styling options. 
The ultimate goal of wearing wigs is to achieve a flawless look while concealing the fact that we are wearing wigs. A lace frontal wig accomplishes this while also being extremely versatile. It looks completely natural, even when you brush your Fringes/bangs away. Furthermore, lace frontal wigs are highly durable and breathable, which is something you will love about it. 
However, taking proper care of your hairpiece is an essential part of ensuring that your hair remains in peak condition. Practice a proper hair care routine to make sure that your wig lasts for a good amount of time. 
Consider human hair lace front wigs to look your best. Diva Divine offers virgin human hair lace front wigs that can blend with your hair in such a way that it resembles your scalp. It enables hair styling by allowing easy parting. At Diva Divine hair boutique, you can choose from a variety of options, and there really is a lace front wig for you.
 #4. Human Hair Machine Wigs 
Machine sewn wig for more durability 
If you're new to machine-made wigs, they are becoming prevalent for so many reasons. First, you can pull off any look without requiring much styling. And fashionistas are highly raving about it when it comes to transforming their look. 
What Is A Machine Made Wig?
Similar to front lace wigs, this machine-made wig has a fixed parting. They are usually less expensive than hand-sewn pieces. In most styles, the hair is machine-sewn in patterns onto a weft. Women prefer wearing machine-made wigs because they are affordable and look extremely realistic as long as you don't pull them back into a high ponytail.
Machine-made wigs are best suited to channel the beachy summer vibes and run errands because they offer comfortable wear. Now that you know the perks of wearing machine wigs, let's look at how to install them flawlessly:
Section your natural hair and pin curl each section. If this is time-consuming, you can wrap your hair around your head to flatten it. 

Hold the wig with both hands and position the front of the wig between your brows.

Put the wig over your head, then pull the front of the wig until it reaches your hairline.

Locate the two hard ear tabs (usually near your temples) by running your fingers along the sides of the wigs. Check that your ear tabs are even. 

There you have it! Ensure that the tabs are even and the wig is at your hairline. 
Consider Human Hair Machine Wigs if you're going for it. The machine-made wigs by Diva Divine add instant volume and length. The wig is entirely made of human hair and is machine-made for a fuller look and durability. Style it normally or color it to achieve a more natural look.  
Related Article : Human Hair Wigs Vs. Machine Made Wigs
Takeaways
No matter which wig you choose to purchase, it will not last long if you do not follow a proper hair care regimen. Use a sulfate and alcohol-free shampoo and condition it more frequently. To avoid brittleness and frizz, take regular breaks from your heat styling tools. Sleeping with damp hair can cause major hair breakage, and you may not want to wake up with unpleasant surprises. Follow a good hair care routine to get the most out of your wig.  
If you're new to wigs, we hope this guide will help you make an informed decision before purchasing a wig. Begin your wig journey with the products listed above. If you're going through bad hair days, turn your frown upside down and visit Diva Divine Hair to find the perfect wig. When you use human hair wigs, you are not limited to a few hairstyles. Broaden your horizons and experiment with different hairstyles.