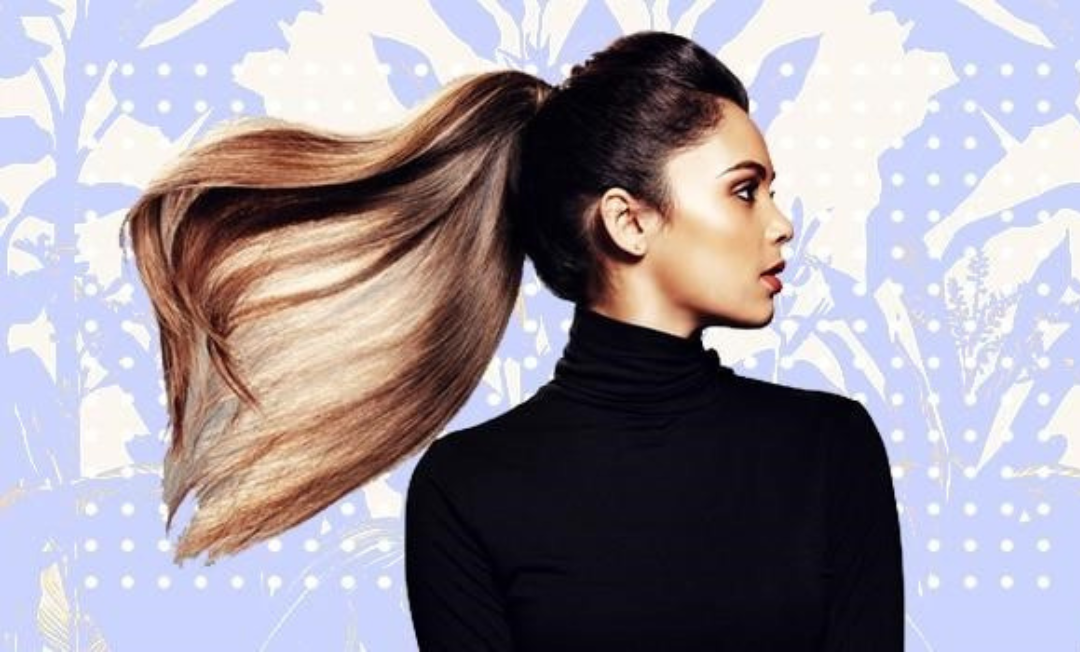 5 Stylist-Approved Ponytail Hairstyles You Can Achieve At Home
Ponytail hairstyles are indeed the ultimate MVPs, whether you are working out at the gym, on the dance floor, or heading to the market. They're practical and cheerful, and unlike the bizarrely high-maintenance messy bun, ponytails are truly simple.
So, whether you want a sensual, athletic, simple, or refined ponytail hairstyle, Diva Divine has you covered!
Top 5 Ponytail Hairstyles With Diva Divine Hair Extensions
Ponytail hairstyles have always been a staple in women's life. From dinner dates to corporate boardrooms, ponytails have always been a go-to.
With these 5 stylist-approved ponytail hairstyles using our human hair ponytail extension, you can kiss goodbye to your dull topknot and unleash your inner Ariana Grande. 
#1 High Ponytail With Supple Waves
Get all eyes on you with this ponytail style!
This high ponytail with supple waves is the perfect up-do for ladies who cannot get enough of wavy styles. Shake up the typical high ponytail with some eye-catching and sensual waves.
If you are wearing this stylist-approved ponytail with supple waves for a night out, pair it with bold earrings and bold lipstick.
Here's how to get the look:
Slick your natural hair with a de-tangling brush and secure it into a ponytail with a hair tie.
Next, tame the fly-ways and pull the base of your ponytail for volume.
Grab your Diva Divine's 20-inch human hair ponytail extension and secure it on your ponytail. Wrap a tiny portion of hair around the ponytail for a smooth transition.
Separate your ponytail into 3 or 4 sections and create supple waves using a medium-sized curling barrel.
Spritz a lightweight holding spray to set the look.
#2 A Sleek High Ponytail
The sleek and voluminous ponytail hairstyle
This sleek high ponytail is the sophisticated cousin of the sporty high ponytail and will elevate your style by 200%! Leave the messy ponytails for clubs and bars and flaunt this killer hairstyle for a formal event. Pair this sleek high ponytail hairstyle with a spectacular gown and stunning jewelry during the event!
Here's how to get the look:
Begin with fresh, blow-dried hair. Blow-dry your hair facing down to create volume at the roots.
Gather your hair towards the crown and smooth it out using a rattail comb before putting it into a ponytail. Alternatively, slick your hair back & up into a high ponytail with a tiny teasing brush sprinkled with hair spray.
Spritz a bit of anti-frizz to tame flyways.
Finger comb and secure your ponytail human hair extension.
Pull a small section of hair on both sides to frame your face.
#3 The Colored Ponytail Style
The coveted colored ponytail style
Popularly dubbed the "Gen-Z" ponytail hairstyle, this voluminous messy ponytail is every woman's dream. It has texture, length, volume, and a chic, laid-back vibe. Get our ponytail extension customized by our colorists to embody the look.
Pro Tip: Pair the style with chunky earrings.
Here's how to get the look:
De-tangle your hair and tease the roots of your hair for volume.
Take the shorter section of your hair out to frame your face.
Tie your hair into a ponytail and install the colored Diva Divine Ponytail Extension.
Use a couple of bobby pins under the extension to lift your e-girl ponytail hairstyle.
Grab a curling wand and create loose waves throughout the hair and the shorter sections around your face.
Spritz holding spray to set the look.
#4 Chic Half-Up Ponytail With Highlights
Chic half-up ponytail extension
Get the combination of the two with this half-up, half-down ponytail style. In addition to being unbelievably pretty, this low-maintenance ponytail hairstyle is also excellent for days when you want to wear two different styles.
Here's how to get the look:
To obtain this easy style, sweep the top portion of your hair back from each side. To obtain this easy style, tease the top section and set it with a holding spray for volume.
Use clear elastic hair ties to secure the half-up.
Install the ponytail extension and blend by creating loose waves.
Add some mobility to your ponytail by attaching bobby pins vertically at the root.
Pro Tip: We recommend adding a splash of color to your ponytail extension with bright highlights. It will make your ponytail hairstyle stand out, irrespective of where you are headed.
#5 Bubble Ponytail
Bubble ponytail hairstyle
This bubble ponytail is a great way to pay homage to the '90s. Its nostalgia fastened in chicness, elegance, and clear elastics. One of the greatest things about the bubble ponytail is that you can wear and style the look however you want. You can accessorize it and tie it high or low.
Here's how to get the look…
Tie your hair into a ponytail to recreate this stylist-approved bubble ponytail hairstyle. You can also braid your hair or leave a few strands out (as seen in the picture) to elevate your bubble ponytail.
Secure the Diva Divine ponytail extension to your ponytail.
Get your clear elastic bands out and place them through the length of the extension.
Conceal the elastics with pearl hair ties.
We hope this compilation of stylist-approved hairstyles has offered you some ideas for future ponytails. Did we forget a ponytail hairstyle? Our ponytail extensions allow users to easily achieve salon and stylist-quality ponytail hairstyles at home!
Share your go-to look using the Diva Divine Ponytail Extension, and tag us @divadivinehair on Instagram!